South African chef's recipe for success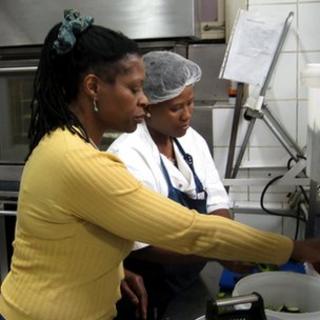 Portia de Smidt and her husband Jason knew that opening a restaurant of African food in Cape Town would not be an easy task, especially for a young interracial couple, but they decided to take the plunge.
It was 1992, two years before the end of apartheid in South Africa, and they felt that people were uneasy about going to eat at a place run by a mixed couple.
At the time, it was also considered much more chic in Cape Town to taste Italian or French cuisine.
But 20 years on, their Africa Cafe has evolved into one of the most popular restaurants in South Africa's most cosmopolitan city.
Mrs De Smidt, who is also the chef, says that their entrepreneurial adventure has had more highs than lows.
"We started in a recession and also people didn't know African food before, so it was difficult to start something that people were not exposed to in the beginning - those were the lows," she told the BBC African Dream series.
"A few things were difficult because we are a mixed couple - that was a bit of a low - people were a bit apprehensive and initially we wanted to be a restaurant that served students but we found that we had more and more tourists because tourists said: 'We've had Italian, we've had French, we want something different, we're in Africa, we must have some African food', and that's how they came to us," she added.
According to her, the highs included doing something different, making people taste food they had not had before, and travelling.
"We had to travel more to get new recipes. We travelled through different countries in Africa meeting different people, exciting ingredients and exciting cultures we encountered, and brought that back and tried to kind of encapsulate that in the different food and dishes that I subsequently served," she explained.
Fashion designer
Mrs De Smidt says that since she was very young, she has loved cooking and baking but never thought that one day she would turn that passion into a career.
She was born in Kimberley, South Africa's former diamond capital and one of the country's most segregated cities under apartheid, but grew up in Swaziland where she attended mixed boarding schools.
She later studied pharmacy for one year at Rhodes University, in Grahamstown, in the south-east of South Africa, but left when riots erupted in 1977.
In the meantime, she applied to many universities in the United States and ended up being accepted by one in Portland, Oregon, with all expenses paid, where she studied fashion design.
In 1988 she returned to South Africa and got a job in the fashion industry, as a door-to-door saleswoman.
A year later she met her future husband. She says that when they started dating, both white and black people treated them with contempt.
After living together for a period in Soweto, they decided to move to Cape Town where he owned a house.
Having failed to secure funding from the banks, they opened the restaurant at home, in the bohemian suburb of Observatory. Later they were joined by her brother, Hector Mbau, who had a wide marketing experience.
"We moved to the city centre because in Observatory we only sat 60 people, and people kept on saying: 'You're always fully booked, we can never find a place, we've been waiting', and people used to book like a year or two years in advance," she told the BBC's Mohammed Allie.
"The growth was big, it was huge, because here we have a 260-seats restaurant which now fills up occasionally but mostly we do about just 100 - 150 which is nice and comfortable, as well, for what's happening right now."
'Up for a challenge'
Mrs De Smidt said that opening the restaurant was difficult and challenging.
"I'm always up for a challenge. People may kind of come and go but the product is always the same, it keeps the same high standard, the same love, and the same energy and intensity of when you first opened," she said.
In her view, that is what keeps people going back to their Africa Cafe.
When asked whether there was anything that, with the benefit of hindsight, she would have done differently, she replied that maybe she would not have been so hard on herself.
"I am a perfectionist, so I like having things done just all right," she explained.
"Maybe the training would have been a little bit different, a little bit more heartfelt, a little bit more soul-induced so that we could have that energy running through in a better way."
Recently, the restaurant has started to include more raw food in its menu.
"This is going back to an ancient way of eating where we ate the food closer to what it was before we kind of massacred it and meshed it and blended it and cooked it and killed it all together.
"When I talk of raw I'm not talking of raw meat because people who eat raw are vegan and vegetarian," Mrs De Smidt pointed out.
What advice would she give young people who would like to start their own business?
"Not to open up a restaurant," she replied laughing, "unless they love it. You must do what you love. You mustn't do what is gonna make you the most money.
"Money is a by-product of your first priority, which should be 'I love what I do and I'm passionate about it', and then from there whatever you dream, it will make people happy and more people will come and that's how the money will come."
African Dream is broadcast on the BBC Network Africa programme every Monday morning.
Every week, one successful business man or woman will explain how they started off and what others could learn from them.