Nigeria forces 'kill Islamist Boko Haram militants'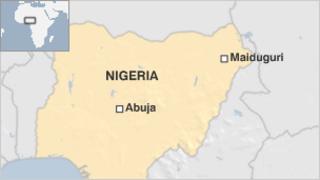 Nigerian security forces say they have killed at least eight militants in fighting in the north-eastern city of Maiduguri.
The army said the members of Islamist militant group Boko Haram died in an exchange of gunfire following explosions at a market.
Three civilians were also injured, said the army, although witnesses reported seeing at least 20 corpses at a market.
Boko Haram has launched a series of deadly attacks across northern Nigeria.
Residents told the BBC they had heard several explosions coming from the Baga market.
A military spokesman told the BBC that soldiers had responded to the explosions and engaged in a gun battle with militants.
The spokesman said eight militants were killed and several others who escaped were being hunted.
Boko Haram, whose name means "Western education is forbidden", wants to establish Islamic law in Nigeria.
Last week the group said it had carried out an attack on a prison in central Kogi state, freeing seven of its members.