South Sudan slashes spending after halting oil output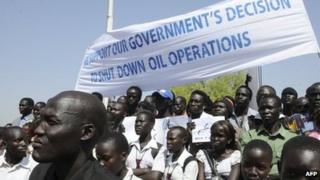 South Sudan has halved spending on everything but salaries to compensate for the loss of revenue following an oil shutdown due to a row with Sudan.
Oil makes up 98% of its budget, after it split from the north last year.
There will be no job losses and government wages will still be paid, the finance ministry stressed.
President Salva Kiir said his nation would rather struggle for a bit than continue to hand over its oil revenues to the old enemies in Khartoum.
The pipelines run from South Sudan through its northern neighbour, with which it fought a bitter civil war for decades, leading to the deaths of some 1.5 million people.
But the two countries have never reached an agreement over how much the south must pay.
In January, South Sudan shut down its entire oil production of 350,000 barrels a day after Sudan started seizing southern oil to compensate for what it called unpaid transit fees.
After the new country shut down its oil production, Sudan's President Omar al-Bashir responded by saying war was now closer than peace.
Each country accuses the other of backing rebel groups and there have been clashes along the new border.
'Swift and deep'
The austerity measures are immediate.
"These are swift and deep cuts, but no layoffs of civil servants, organized forces personnel and [army] SPLA," Finance Minister Kosti Manibe said in a statement on Sunday.
"Everyone's paycheck is being maintained," he said.
The BBC's James Copnall in Khartoum says this is good news for South Sudan's hundreds of thousands of civil servants and men and women in uniform.
South Sudan's first budget allocated over 40% of $2bn (£1.2bn) to salaries, the AFP news agency reports.
Our correspondent says leaving the oil in the ground has been a popular move in South Sudan - many people see it as the moment the country finally became truly free.
Tax collection
The amount transferred to each of South Sudan's 10 states will also be lowered, though the reduction will be "minimal" according to the statement.
The government says it will also triple tax revenue within six months through better tax enforcement.
Our correspondent says detailed figures are not available, but it seems unlikely these measures will fully compensate for the loss of the oil revenue since no significant economy exists outside of oil.
Vice-President Riek Machar told the BBC last week that the loss of oil revenues would mean development would have to be put on hold for several years, but basic services would not suffer.
"For a period of 30 months we will definitely freeze our activities on development, but we'll provide basic services: Health; education; water and even some infrastructure projects will go on," he said.
New talks to try to resolve the oil impasse between South Sudan and Khartoum are due in the next few days in the Ethiopian capital, Addis Ababa.
Both Sudan and the South are reliant on their oil revenues, which account for 98% of South Sudan's budget. But the two countries cannot agree how to divide the oil wealth of the former united state. Some 75% of the oil lies in the South but all the pipelines run north. It is feared that disputes over oil could lead the two neighbours to return to war.
Although they were united for many years, the two Sudans were always very different. The great divide is visible even from space, as this Nasa satellite image shows. The northern states are a blanket of desert, broken only by the fertile Nile corridor. South Sudan is covered by green swathes of grassland, swamps and tropical forest.
Sudan's arid north is mainly home to Arabic-speaking Muslims. But in South Sudan there is no dominant culture. The Dinkas and the Nuers are the largest of more than 200 ethnic groups, each with its own languages and traditional beliefs, alongside Christianity and Islam.
The health inequalities in Sudan are illustrated by infant mortality rates. In South Sudan, one in 10 children die before their first birthday. Whereas in the more developed northern states, such as Gezira and White Nile, half of those children would be expected to survive.
The gulf in water resources between north and south is stark. In Khartoum, River Nile, and Gezira states, two-thirds of people have access to piped drinking water and pit latrines. In the south, boreholes and unprotected wells are the main drinking sources. More than 80% of southerners have no toilet facilities whatsoever.
Throughout the two Sudans, access to primary school education is strongly linked to household earnings. In the poorest parts of the south, less than 1% of children finish primary school. Whereas in the wealthier north, up to 50% of children complete primary level education.
Conflict and poverty are the main causes of food insecurity in both countries. In Sudan, many of the residents of war-affected Darfur and the border states of Blue Nile and South Kordofan, depend on food aid. The UN said about 2.8m people in South Sudan would require food aid in 2013. The northern states tend to be wealthier, more urbanised and less reliant on agriculture.