Somalia leaders reach agreement on re-shaping politics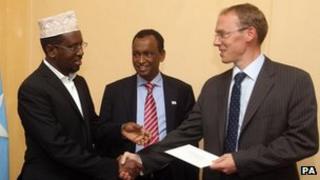 Key Somali leaders have signed a plan to try to end the country's two-decade-long political crisis.
The agreement provides for a new, smaller parliament and an upper house of elders.
The deal came at a meeting in the semi-autonomous region of Puntland, but did not include some key actors.
Al-Shabab militants, who control large areas of central and south Somalia, and the self-declared independent state of Somaliland did not take part.
Federal state
The latest agreement provides the first indication of what Somalis would like to see from this week's key conference in London.
For three days Somali leaders had met in Garowe, the capital of Puntland.
Somali President Sheikh Sharif Sheikh Ahmed was joined by leaders of the pro-government militia, al-Sunna Wal Jamaaca, and senior officials from another semi-autonomous region, Galmudug.
The consultative conference hammered out a blueprint for a future government, to replace the current transitional government, whose mandate expires in August.
Somalia would become a federal state, with Mogadishu as the federal capital.
The plan envisages:
225 MPs, halving the existing number
an upper chamber of 54 Somali elders
women would make up 30% of parliament
civil society and "respected women" will nominate and select the women members
parliamentarians will be drawn from Somalia's traditional regions and reflect the nation's clans
The Garowe agreement was witnessed by representatives of the international community, including the African Union and United Nations special representative, Augustine Mahiga.
Matt Baugh, the British ambassador to Somalia, welcomed the agreement as "a step forward in the political process", but warned that all parties to the plan would have to "deliver on what they have said they are going to do".
After so many agreements in recent years, there remains much scepticism among Somali observers about whether this plan can succeed and many details need to be worked out, starting at Thursday's Somali conference in London.