European Union lifts more Zimbabwe sanctions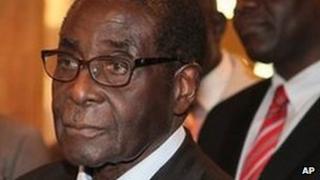 The European Union has lifted some more of its sanctions against top officials and institutions in Zimbabwe.
An EU diplomat said the bloc was ending measures against 20 entities and 51 people - including the justice and foreign ministers.
However restrictions on President Robert Mugabe continue.
The EU lifted 35 sanctions last year, noting the power-sharing government was making "significant progress" in addressing its economic crisis.
Mr Mugabe and more than 100 key members of his inner circle remain the subject of restrictions, which include asset freezes and bans on travelling to European countries.
'Keep sanctions' plea
BBC Southern Africa correspondent Karen Allen says the EU remains concerned that pledges made after violent elections in 2008, including promises to reform the police and security services, are not being honoured.
The EU diplomat said the travel bans on Justice Minister Patrick Chinamasa and Foreign Minister Simbarashe Mumbengegwi were lifted so they could visit Brussels for talks, but their assets remain frozen.
The US-based campaign group Human Rights Watch earlier called on the EU not to lift its sanctions.
HRW said arrests of peaceful anti-government campaigners were continuing and lifting the sanctions would send the wrong message to the government.