Gay Ugandans flee fearing for their lives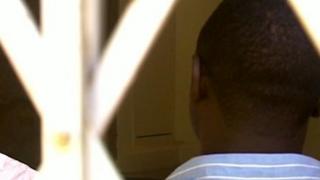 With the latest incarnation of Uganda's Anti-Homosexuality Bill tabled before parliament, the BBC's East Africa correspondent Will Ross talks to several people who fled the country to escape harassment.
"I was at home watching a movie when I heard people shouting that they wanted to kill these people," said Paul, which is not his real name.
"As the voices grew louder I knew it was my day so I knelt down and prayed to God," the gay Ugandan man in his mid-twenties said.
"The large mob of men and women smashed my car, broke into the house and started beating me," he said.
The police shot in the air to disperse the crowd, he said, but when he went to record a statement he was locked up.
"The police officer told the people in the cell that I loved men and when I was put in there I was beaten and abused - sexually abused."
Paul said he was bleeding profusely and he was only released because the inmates feared he was dying and alerted the officers.
Paul's partner John - again not his real name - also told me he had been beaten by a mob on the street.
He said this happened 18 months ago after his name and photo were published in a local newspaper that was calling for homosexuals to be hanged.
Both men are now living in exile in Nairobi.
'Forbid boasting'
It has not been possible to independently verify their testimonies.
The Ugandan government says it knows of no cases of people being tortured or victimised in custody because of their sexuality.
"We have never hurt or isolated persons of this particular sexual orientation," Uganda's Minister for Ethics and Integrity Simon Lokodo said.
The minister said it was possible that people had left the country fearing they might be prosecuted should the Anti-Homosexuality Bill be passed into law.
When the bill was first introduced in 2009 it proposed lengthy prison sentences and even the death penalty for "repeat offenders".
Ugandans would be required to report any homosexual activity within 24 hours or face prosecution themselves.
The proposed legislation was shelved following an international outcry but is now back before parliament - although the MP behind it, David Bahati, says a clause proposing the death penalty will be dropped.
Mr Lokodo gave me a somewhat baffling interpretation of the legislation: "The bill does not marginalise, does not criminalise or stigmatise the homosexuals.
"All we forbid is their boasting, exposing their identity because then they will be giving the impression that this is up lauded[sic] by the laws of this country."
It is possible that the reintroduction of the bill is meant to divert attention away from bad news stories in Uganda - like high level corruption scandals and the ongoing threat of street protests.
Homophobia is deeply entrenched across much of Africa and in most countries homosexuality is illegal.
If given parliamentary time, the legislation is likely to sail through Uganda's parliament.
"If society is intensely homophobic then the chances are that in order to get a vote the last thing an MP would want to do is challenge a societal perception or norm," Monicah Kareithi of Kenya Human Right's Commission said.
She says that with advocacy change is happening - but it will take a long time.
'Trapped'
One person who fought hard against the legislation was Danie - a 31-year-old transgender Ugandan - also in exile in Nairobi.
"I'd prefer 'she'," was the response when I asked Danie which pronoun to use.
"All my life I've felt trapped in a man's body but at heart I feel I'm a woman - I should be a woman," she said.
"But given the atmosphere at home I tried to hide it."
Danie told me she worked in a Ugandan government office - and secretly worked with US activists.
Part of that campaign involved trying to persuade people who were pro-rights for the lesbian, gay, bisexual and transgender (LGBT) community to stand in elections for parliament.
This is not an easy task in a conservative society.
She told me this effort to give the LGBT community a political voice angered the authorities - and she was arrested on 10 April 2011.
"I was taken to a military facility in Entebbe. I was locked up and every morning I was questioned," she said.
"They tortured me by whipping and beating me with an iron rod to try to get information out of me."
Danie said as a result of the beatings a chip of iron became embedded in her right knee - which then swelled up so badly she needed medical attention.
'Propaganda'
Fearing a treason trial against her was being prepared, Danie said she fled the country.
The response to Danie's allegations from Uganda's military spokesman Felix Kulayigye was: "Not true. It is laughable that the army would get involved in such a case."
The Anti-Homosexuality Bill has led to an increase in the number of Ugandans seeking asylum.
A human rights group in Kenya told me dozens had chosen to cross the border for fear of persecution.
Whether all these cases are genuine is debatable, as some people may well invent stories in order to leave the country for greener pastures.
As Danie awaits news of an asylum application to the US she dismisses such talk as homophobic propaganda intended to block support and sympathy for victims.
"If I'd wanted to go to America I think I would have better options than going through this ordeal," she said.
"I have to keep running to save my life," she said.
"But my hope is that some day I will be able to live as a Ugandan and claim my right back as a Ugandan."