Sudan and South Sudan sign peace pact, says Thabo Mbeki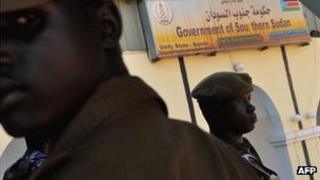 Sudan and South Sudan have signed a non-aggression pact, the chief mediator at crisis talks between the two says.
Thabo Mbeki, the ex-president of South Africa, said both sides had agreed to respect each other's sovereignty and territorial integrity.
South Sudan became independent last July, but since then relations have deteriorated with numerous clashes along their disputed border.
It has also halted oil production amid a dispute over sharing revenues.
The South Sudanese opted to split from the north last year, following a peace deal in 2005 which ended decades of civil war in which some 1.5 million people died.
But the two never agreed on the transit fees that the South Sudanese government in Juba should pay Khartoum for pumping oil through its pipelines and using Sudan's oil export infrastructure.
The countries have also failed to reach agreement on borders and accuse each other of backing militia groups.
Mr Mbeki spoke to reporters after the first meeting in a fresh round of talks in Ethiopia's capital, Addis Ababa, to resolve some of these issues.
He said both sides had pledged to "refrain from launching any attack, including bombardment".
Earlier, UN Secretary General Ban Ki-moon had voiced his concern about the slow progress of the negotiations.
"The moment has come for the leaders of both countries to make the necessary compromises, once again, that will guarantee a peaceful and prosperous future for both nations," he said a statement.
Before halting production, South Sudan accused Sudan of stealing oil worth $815m (£518m).
Correspondents say the shutdown is hurting both economies - 98% of Juba's budget depends on oil while Khartoum needs transit fees to make up a 36% hole in its budget because of South Sudan's secession.
Friday's agreement aims to establish a monitoring mechanism to allow the two sides to lodge complaints if border disputes erupt.
The negotiations are expected to continue on Saturday, focusing on oil.
Both Sudan and the South are reliant on their oil revenues, which account for 98% of South Sudan's budget. But the two countries cannot agree how to divide the oil wealth of the former united state. Some 75% of the oil lies in the South but all the pipelines run north. It is feared that disputes over oil could lead the two neighbours to return to war.
Although they were united for many years, the two Sudans were always very different. The great divide is visible even from space, as this Nasa satellite image shows. The northern states are a blanket of desert, broken only by the fertile Nile corridor. South Sudan is covered by green swathes of grassland, swamps and tropical forest.
Sudan's arid north is mainly home to Arabic-speaking Muslims. But in South Sudan there is no dominant culture. The Dinkas and the Nuers are the largest of more than 200 ethnic groups, each with its own languages and traditional beliefs, alongside Christianity and Islam.
The health inequalities in Sudan are illustrated by infant mortality rates. In South Sudan, one in 10 children die before their first birthday. Whereas in the more developed northern states, such as Gezira and White Nile, half of those children would be expected to survive.
The gulf in water resources between north and south is stark. In Khartoum, River Nile, and Gezira states, two-thirds of people have access to piped drinking water and pit latrines. In the south, boreholes and unprotected wells are the main drinking sources. More than 80% of southerners have no toilet facilities whatsoever.
Throughout the two Sudans, access to primary school education is strongly linked to household earnings. In the poorest parts of the south, less than 1% of children finish primary school. Whereas in the wealthier north, up to 50% of children complete primary level education.
Conflict and poverty are the main causes of food insecurity in both countries. In Sudan, many of the residents of war-affected Darfur and the border states of Blue Nile and South Kordofan, depend on food aid. The UN said about 2.8m people in South Sudan would require food aid in 2013. The northern states tend to be wealthier, more urbanised and less reliant on agriculture.