Nigeria recaptures Boko Haram 'Christmas Day bomber'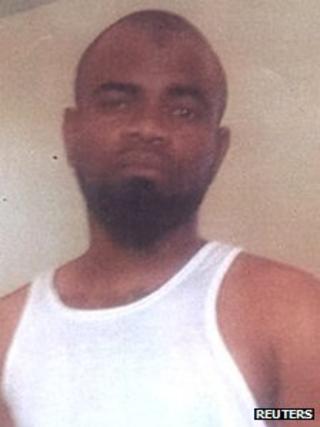 A man suspected of masterminding the deadly bombing of a Nigerian church on Christmas Day has been recaptured, Nigeria authorities have said.
Officials say the suspect, Kabiru Sokoto, was captured in the eastern state of Taraba.
He is accused of being a member of the Islamist sect, Boko Haram, which has said it carried out the attack.
His escape last month was a huge embarrassment for the police, whose head was sacked shortly afterwards.
Boko Haram has staged a series of increasingly deadly attacks in recent years - last month 185 people were killed during a series of bombings in Kano.
Dozens of people died when a church on the outskirts of the capital, Abuja, was bombed on Christmas day.
Mr Sokoto was first arrested last month, but escaped the next day while being escorted by police.
"He was re-arrested this morning at Mutum Biu in Taraba State by the [secret police]," a security source told AFP. "He's being flown to Abuja now by the Nigeria air force."
Authorities say Mr Sokoto planned the 25 December bombing of St Theresa Roman Catholic church in Madalla, just outside Abuja.
He fled last month while police took him for a search of his house. Police said their convoy was attacked by suspected Boko Haram members.
Correspondents at the time said it was a result of huge incompetence or worse on the part of the police. Some suspected there may have been some kind of collusion between security officials and Boko Haram.
Boko Haram, whose name means "Western education is forbidden", wants to establish Sharia (Islamic law) in Nigeria.
Nigeria, Africa's most populous nation with 160 million people, is divided between a largely Muslim north and a south where most people are Christians and some animists.