Guinean's virtual dream becomes cyber reality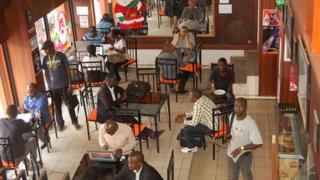 Guinea's entrepreneur Moustapha Naite opened a small cyber cafe in Conakry, the capital, 10 years ago. Now his company, Mouna Internet Technologies, has grown into the country's largest web provider.
"To tell you the truth, when I started this company, my idea was basically just to become independent, to be able to do things as I want to do, and to be the master of my own time," he told BBC Africa's series African Dream.
Mr Naite studied civil engineering and economics in the United States.
He said that he returned to Guinea with the idea of creating something for which there was demand and discovered a niche in the web access market.
He asked some friends in the US to send him 10 computers in order to start an internet cafe.
"It was free of cost because it was based on the fact that we had a very trustful relationship and they knew that I had always aspired to come back to my country," he told the BBC's Al-hassan Sillah.
"I had a job in the States but I decided to leave everything to come back to my country to, on one hand, share my experience but on the other hand, as well, to look for my own African dream or Guinean dream. I didn't want to think that the American dream was just the only way," he added.
Trust and money
Mr Naite said that a journey that started with an internet cafe which used to make from $10,000 (£6,300) to $12,000 a year has become a company with an annual revenue in the region of $4m to $5m.
"This is because we thought that business should adapt to the environment. We went from a small cyber cafe to become an internet service provider and a major player in the technology field in Guinea.
"Today we are providing internet to world-known companies in the mining sector, in the petroleum sector, and government departments as well. We are playing a key role even in the telecom business now in Guinea."
He explained that raising capital became easier once the banks saw that he had opened several cyber cafes and that the business was evolving to become a real small- to medium-size company.
"We asked a few banks to accompany us in our bigger dream that we had to become an internet service provider
"We were lucky that they trusted us. They lent us a lot of money. I can say today that we respected the loan that they gave us and we paid everything back already."
'Ups and downs'
But, according to Mr Naite, the journey has not been always easy.
"Life is made of ups and downs. We've had lots of difficulties based on the political environment, the instability, but for us that was all part of the whole scheme because when you're doing business in a country that is not completely stable you have to focus into your overall plan that you could have, taking times when things would not go well at all.
"For me it, it's my Guinean dream. Nothing could have stopped the journey. We would have gone through any means possible so that we could make the business survive."
When asked about his long term plans, he replied: "The outsourcing, the intelligence, providing one turnkey solution to world-known companies - that's where the future lies for us and we are determined to play a role in the Guinean expansion."
Does he have any advice for people who want to go into business?
"I've had a very blessed journey. I've been very lucky that we've always came across people that have helped me because one person cannot do everything.
"You must be fortunate to have people around you that believe in your dream, people that can always bring you something, not moneywise but advice. A man or a woman that listens to people will go forward," he concluded.
African Dream is broadcast on the BBC Network Africa programme every Monday morning.
Every week, one successful business man or woman will explain how they started off and what others could learn from them.