South Sudan in Ethiopia-Djibouti oil pipeline deal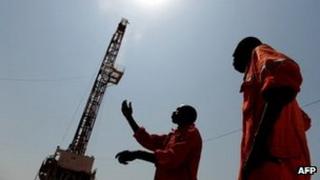 Landlocked South Sudan has signed a second oil pipeline deal in a bid to reduce its dependence on Sudan - amid a deepening oil crisis.
The only export route for southern oil - which makes up 98% of its budget - is via its northern neighbour.
The latest plan is to build a pipeline to the port of Djibouti on the Red Sea via neighbouring Ethiopia.
South Sudan last month stopped production in a transit fees row and accused Khartoum of stealing its oil.
A memorandum of understanding was signed during talks in the Ethiopian capital, Addis Ababa, earlier this month, South Sudan's Minister for Information Barnaba Marial Benjamin told the AFP news agency.
Chinese, US and European companies have shown interest in carrying out feasibility studies, Mr Benjamin said.
Djibouti - on the Gulf of Aden at the entrance to the Red Sea - is at least 1,000km (625 miles)away from South Sudan's oil fields, and crosses remote, difficult terrain where South Sudanese and other militia groups operate.
Last month, South Sudan's government signed a deal with Kenya to link its oil fields to the port of Lamu.
Industry analysts say such a pipeline would usually take at least three years to build and cost up to $4bn (£2.6bn).
South Sudan and Sudan - who fought a bitter civil war for decades and split in July - remain at loggerheads, especially over oil on which both countries depend almost entirely for their revenues.
The south has the bulk of the oil - but the north has the pipeline, refinery and the export terminal at Port Sudan on the Red Sea.
They have never agreed on the transit fees that the south should pay Khartoum for pumping oil through its pipelines and using Sudan's oil export infrastructure.
President Salva Kiir of South Sudan recently accused Sudan of stealing crude oil worth $815m (£518m).
Khartoum has admitted to confiscating some for unpaid fees - prompting South Sudan to halt all production.
President Kiir said his nation would rather struggle for a bit than continue to hand over its oil revenues to the old enemies in Khartoum.
Fresh talks over the oil crisis are scheduled for Friday in Addis Ababa.