Trafigura in South Sudan oil row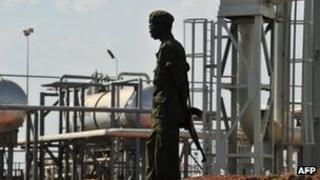 Trafigura, the world's third largest oil trader, has said it is reviewing whether crude oil it bought from Sudan belongs to South Sudan.
"Significant efforts" had been made to confirm ownership at the time of purchase, it said.
But South Sudan claims a tanker of crude oil bought by Trafigura was one of three illegally seized by Khartoum, Reuters news agency reports.
South Sudan recently accused Sudan of stealing oil worth $815m (£518m).
South Sudan, which has been using its northern neighbour's infrastructure to export its oil, last week shut down oil production in protest.
Sudan lost most of its oil-producing areas when South Sudan seceded in July 2011.
Observers say the oil row has created the greatest crisis between the two states since South Sudan's independence.
'Warning'
Last month, Khartoum admitted to holding tankers carrying southern oil in lieu for unpaid transit fees, but did not say whether it intended to sell the oil.
South Sudan's justice ministry has warned that any party buying the oil cargo from these tankers may be taken to court, Reuters reports.
In a statement, the multinational oil trading firm Trafigura said it had bought "from time to time" the region's Nile and Dar Blend crude oil.
"In relation to our interests in recent shipments, given the ongoing political discussions with respect to Sudanese oil ownership, significant efforts have been made to confirm legal title, and that confirmation has been provided," it said.
The company said is was now reviewing Juba's claims that it may have bought oil from Khartoum that belongs to the south.
"The government of Southern Sudan were asked to provide further information to support their claim to ownership of the oil in which Trafigura has an interest," the statement said.
"Some information has been provided which we are reviewing," it said.
Correspondents say last week's oil production shutdown is hurting both economies - 98% of Juba's budget depends on oil while Khartoum needs transit fees to make up a 36% hole in its budget because of South Sudan's secession.
The South Sudanese opted to split from the north last year, following a peace deal in 2005 which ended decades of civil war.
But the two never agreed on the transit fees that Juba should pay Khartoum for pumping oil through its pipelines and using Sudan's oil export infrastructure.