Nigeria: Boko Haram claims Kaduna army suicide attack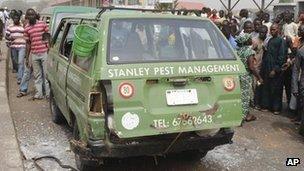 Nigeria's militant Islamists have said they carried out Tuesday's suicide bombing at the army headquarters in the northern city of Kaduna.
A man wearing a military uniform blew himself up outside the barracks - one of Nigeria's most fortified complexes.
A spokesperson for the Boko Haram group also claimed responsibility for an attempted attack on an air force base.
The group, wants to establish Islamic law in Nigeria, has recently killed hundreds of people in the north.
The blast at the barracks occurred at the base of the 1st Mechanised Division of the Nigerian army.
An army spokesman said soldiers shot the man but he still detonated the bomb in the car he was trying driving into the heart of the barracks.
The BBC's Abdullahi Kaura Abubaker in northern Nigeria says the fact that Kaduna has now been attacked by Boko Haram - and the suicide bomber nearly got into the heart of the city's military headquarters - is of huge significance.
Multiple, co-ordinated attacks last month in another northern city, Kano, left more than 185 people dead - the most deadly the group has carried out since it began its uprising in 2009.
Our correspondent says Kaduna residents' confidence in Nigeria's security forces to protect them has been undermined by the apparent ease with which Boko Haram staged Tuesday's attacks.
There is a large military presence in the city and several police road blocks set up in the wake of the attack last month on Kano.
There was also a third explosion near a bridge in the city - which is also home to several retired military officers.
"Fragments of the bomb flew into the petrol station where I was refuelling," an eyewitness who was close to the bridge blast told the BBC's Network Africa programme.
"People were confused and the impact was felt in some houses nearby where windows were shattered," he said.
Army spokesman Maj Gen Raphael Isa said the only casualty in Kaduna was the suicide bomber.
But a military source told the BBC that he saw the dead bodies of five soldiers - and a BBC reporter in Kaduna said he had seen three ambulances leaving the barracks for the local hospital.
Boko Haram, which loosely translates from the local Hausa language as "Western education is forbidden", first came to prominence in 2009 when hundreds of its followers were killed when they attacked police stations in Maiduguri.
Its founder, Mohammed Yusuf, was arrested but died in police custody.
In 2010 the group started to stage drive-by shootings on government targets in revenge for his killing and last year, it carried out suicide bombings on high-profile targets such as the headquarters of the UN and the police in Abuja.