S Africa police charge Mgqumeni 'imposter' with fraud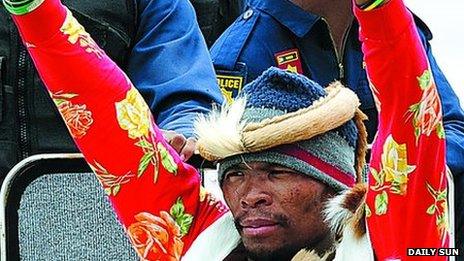 A man who claimed to be a famous dead singer has been charged with fraud, South African police say.
The man said he was Khulekani "Mgqumeni" Khumalo - an award-winning Zulu folk musician who died in 2009.
He claims he was kidnapped by a witchdoctor who cast a spell on him and held him in a cave with zombies, local media reported.
But police say the man's fingerprints establish that he is in fact Sibusiso John Gcabashe, 28.
Khumalo's apparent return from the dead had sparked frenzied scenes as fans flocked to the singer's family home at the weekend, with riot police deploying truncheons and water cannon to control them.
The apparent impersonator appeared at Nquthu magistrate court in KwaZulu-Natal on Tuesday where he was charged with fraud but not asked to enter a plea, said police spokesman Col Jay Naicker.
He has been remanded in custody until 14 February when his bail application - which the state is expected to oppose - will be heard.
Family of the dead singer appeared split over the man's identity, with two wives saying he was genuine but the singer's former partner, Zehlise Xulu, insisting he was not.
Ms Xulu, who has a 10-year-old son by Khumalo, said she hoped the man would be convicted and sent to jail for a long time for "bringing back old pains".
"I was annoyed when he repeatedly referred to me as his lover," she said.
Belief in witchcraft is common in South Africa, especially in rural areas.