Uganda MP revives anti-gay bill but drops death penalty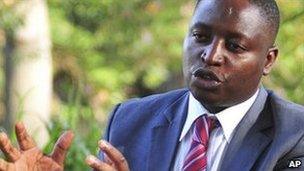 A Ugandan MP has revived a controversial anti-gay bill but says the provision for the death penalty for some homosexual acts will be dropped.
A BBC correspondent says MPs laughed, clapped and cried out: "Our bill, our bill," when its architect David Bahati reintroduced the draft legislation on Tuesday.
The Anti-Homosexuality Bill was shelved in 2011 after an international outcry.
It still increases the punishment to life in prison for homosexual offences.
Homosexual acts are already illegal in Uganda - a largely conservative society, where many condemn homosexuality.
Anyone failing to report to the authorities a person they knew to be homosexual would also be liable to prosecution.
Mr Bahati told the BBC's Joshua Mmali in the capital, Kampala, that for procedural reasons, the bill had been reintroduced in its original form but that the provision for capital punishment would be removed at committee stage.
"We have moved away from the death penalty," he said.
The original bill said those found guilty of "aggravated homosexuality" - defined as when one of the participants is a minor, HIV-positive, disabled or a "serial offender" - would face the death penalty.
Mr Bahati hopes his private member's bill will finally be debated during this parliamentary session, which opened on Tuesday.
The MP leads the ruling party caucus in parliament, so the proposed legislation would never have been tabled without the government's backing, our reporter says.
The bill was first introduced in 2009, but has never made it to a debate in the chamber.
In recent years, some gay rights groups have been set up in Uganda.
In January 2011, gay rights activist David Kato was killed in what some said was a hate crime - the police said it was linked to a robbery.
At his funeral, the priest condemned gay people.
Correction 09 February 2012: We have amended this story to make it clear that the death penalty has not yet been dropped from the text of the bill.
Related Internet Links
The BBC is not responsible for the content of external sites.