Nigeria oil militants Mend 'hit Eni Bayelsa pipeline'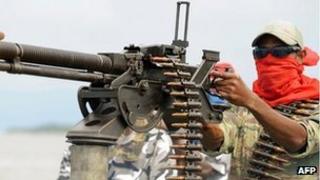 Militants say they have destroyed an oil pipeline in southern Nigeria, in their first attack in more than a year.
A statement claiming to be from Mend, a militant group that signed an amnesty in 2009, said the attack was a reminder of their presence in the area.
Witnesses said they heard an explosion at a pipeline run by Italian firm Eni in Bayelsa state on Saturday night.
But the firm has not commented, and the authorities said they could not confirm that an attack had taken place.
The Movement for Emancipation of the Niger Delta (Mend), was once a feared militant group - its bombings and kidnappings paralysed the industry.
It claimed to be fighting for more rights and a share of oil wealth for local people.
Many of the group's leaders renounced violence after signing a truce with the government in 2009, and the group's last confirmed attack came in November 2010.
But a statement emailed to media outlets on Sunday said the group had "attacked and destroyed" an Eni pipeline near the Brass River.
"This relatively insignificant attack is a reminder of our presence in the creeks of the Niger Delta and a sign of things to come," said the email.
It came from an account in the name of Jomo Gbomo, a name long assumed to be an alias of Mend's leaders.