Nigerian ex-speaker Dimeji Bankole cleared of fraud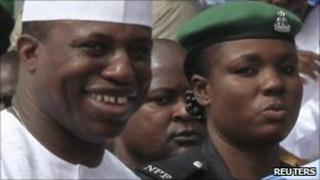 A judge in Nigeria has dropped fraud charges against one of Nigeria's most powerful politicians, former House of Representatives speaker Dimeji Bankole.
Mr Bankole was arrested in June 2011 on allegations he misappropriated tens of millions of dollars of government funds - charges he has denied.
He was held after a four-hour stand-off at his home in the capital, Abuja.
Analysts say Mr Bankole is a close ally of President Goodluck Jonathan, who has promised to tackle corruption.
It is alleged that Mr Bankole secured a 10bn naira ($65m; £40m) loan, which was then shared out among senior figures in parliament as a pay rise.
Mr Bankole has acknowledged that the loan exists but says he did not gain personally.
Justice Suleiman Belgore cleared Mr Bankole and his former deputy Usman Nafada, saying that while the salary increase was "immoral, wrong and condemnable," the accused had not committed any crime, reports the AP news agency.
A lawyer for the Nigeria's anti-corruption body, the Economic and Financial Crimes Commission (EFCC), which brought the case, said he was unhappy with the decision and would discuss whether to appeal.