Tunisia's Jews shun 'migrate to Israel' idea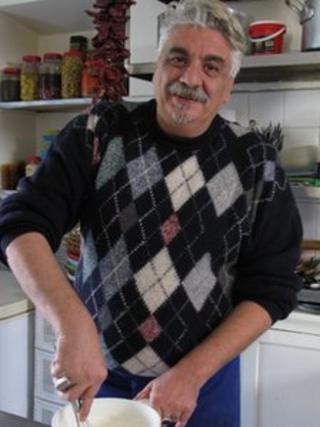 In the wake of the Arab Spring, an Israeli government minister said that for their own safety all of Tunisia's remaining Jews should move to Israel.
Hundreds of thousands of Jews once lived across North Africa and the Middle East before the creation of Israel in 1948. But the suggestion that the small communities that remain should disband has been largely met with derision - from the Jews themselves.
In a small family-run kitchen on the northern outskirts of Tunis, a jovial middle-aged man with a full grey moustache puts the finishing touches to a rich, chocolate dessert.
With a range of Middle Eastern and Mediterranean dishes, there is nothing that outwardly sets this particular eatery apart. That is until you look at the faded black and white photographs that cover the walls. Photographs of family weddings, of happy couples, of a community that is a mere fraction of what it once was.
Jacob Lelouche runs the last kosher restaurant in the country, he is a proud Tunisian and he is also Jewish. None of which is contradictory or in any way problematic, says Jacob.
He certainly feels under no pressure to leave the country of his birth and even stood as an independent Liberal candidate in last October's historic elections.
"Where would I go - to Europe? Come on, I'm not stupid. To Israel? I'm not that stupid either," Jacob told me as he prepared to open the restaurant for the evening.
"It's important that a Jewish man can stand in elections here, but it's not a problem - nobody really cares."
Most of Tunisia's Jewish community live on the southern holiday island of Djerba which is also home to the famous El Ghriba synagogue, which has been in continuous use since the first century.
Other, mainly elderly, people keep the small community in Tunis alive and attend the huge, exquisite Great Synagogue in the heart of the capital.
Built in the 1930s when the Jewish population numbered more than 100,000 the synagogue is still an imposing building and is beautifully decorated inside. But it is hardly ever used these days - services take place instead in a small ante-room.
As in the rest of the Arab world, Tunisia's Jewish population crashed dramatically after the creation of Israel and subsequent Arab-Israeli wars - thousands emigrating to France or to Israel itself.
But when an Israeli government minister, Silvan Shalom, recently suggested that the remaining 2,000 Jews should leave, he was given short shrift.
"Me, I'm a Tunisian Jew," says Atun Khalifa, a senior figure in the community.
"I know my country well and I'm against the proposition to leave because no-one here is afraid. I don't tell him (Shalom) where to go!"
Since last year's overthrow of the secular dictatorship, many more Muslims have also felt able to express their beliefs in what is, after all, an overwhelmingly Islamic country.
But when radical Muslims, at Tunis airport, recently held aloft posters calling for the killing of Jews - there was general outrage in Tunisia.
Rashid Ghannouchi is president of Ennahda, the moderate Islamist party that emerged as the country's largest political force after the elections.
"I have made a point of meeting here with the (Jewish) community's leaders," Mr Ghannouchi told me in his downtown office.
"In our party's rules and in the country's constitution, it is important to emphasise that all of our faiths and traditions are respected, equally."
Tunisia was of course the first of 2011's Arab revolutions and, in many ways, it has been the most successful and least divisive.
After elections there is a united feel to a new country that is anxious to move forward through what are tough economic times. But after 23 years of dictatorship it is perhaps inevitable that there are inter-communal divisions and political tensions.
Today there are armed guards outside the Great Synagogue in Tunis and those few threats are being taken seriously.
But others take an upbeat view. A community that has been here for 3,000 years intends to remain, and is indeed encouraging Jews who have left, to return to what is hopefully a more tolerant, stable country.