Sani Abacha aide to hang for Nigeria killing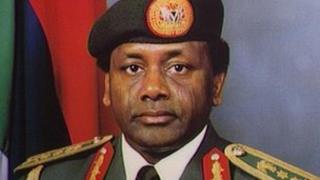 A close aide to former Nigerian military ruler Sani Abacha has been sentenced to hang for killing the wife of politician Moshood Abiola in 1996.
Major Hamza al-Mustapha has been in detention since 1999 over the killing.
Mr Abiola is widely believed to have won the 1993 election, which was annulled by Nigeria's junta. His wife Kudirat was shot dead in 1996.
Abacha and Abiola both died in 1998, paving the way for the end of decades of military rule the following year.
Mustapha, Abacha's security chief, had denied the charge.
After declaring himself the victor of the 1993 election, Mr Abiola was arrested and charged with treason.
He was in prison when his wife was killed.
Abacha seized power shortly after the 1993 elections were annulled and went on to become one of Nigeria's most notorious military rulers, accused of stealing billions of dollars from the oil-rich nation.
After Abacha died, Abiola was due to be released from prison when he too died in his cell while meeting US diplomats.
A team of international pathologists says he died of natural causes but many of his supporters continued to blamed the military authorities.