Barbecuing to boost Liberia's economy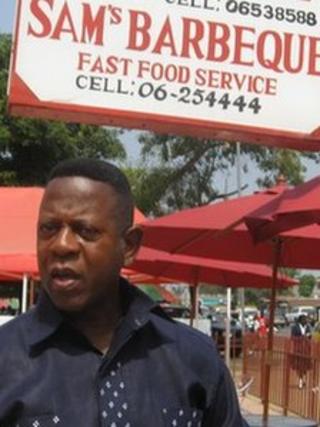 The chaos of Liberia's civil war may not have been the ideal time to open a fast-food restaurant but this did not deter Liberian businessman Sam Mitchell.
The doors to Sam's Barbeque opened in the 1990s after Mr Mitchell decided that he needed to play a part in efforts to bring the country back to order after six years of war.
The conflict left around 250,000 dead and many thousands more fled. Liberia was left in financial ruin and overrun with weapons.
In the aftermath, many only saw despair but Mr Mitchell saw the need for all Liberians to get involved in efforts to resuscitate a stagnant economy.
"It was just a little hut we put there. We had about five tables and about 10 chairs. And that's how we started - my wife was the cook, I was the cashier and my daughter, she was the waitress," he told the BBC's Africa Dream series.
Sam's Barbeque has gone on to become one of Monrovia's best-known restaurants. And his business interests now extend to a conference centre, a hotel and more restaurants.
Mr Mitchell began with just $500 (£320) and credits this humble beginning with preparing him for the challenges of working in the restaurant business.
"You have to be prepared to do anything; wipe the tables, wipe the floor, you are the accountant, you are the CEO, you're the HR manager, you're the marketing manager, you have to develop skills in all aspects of business, otherwise you definitely will not make it," he told the BBC's Jonathan Paye-Layleh.
He estimates that the initial investment has now risen to around $500,000 with a net worth of $159,000 minus bank deductions.
Competition
He has opened two more restaurants in south-east Liberia, and a coffee shop in Monrovia. He sees Liberia's burgeoning tourist trade as the next investment opportunity and is now branching out into hospitality with the construction of a new hotel.
"The foundation for the hotel is for 10 stories. It's taken us one year to do two floors where down the road our foreign competitors [completed it] in one year."
This puts him in direct competition with wealthy Lebanese businessmen who dominate the fast food and hotel businesses in Liberia.
For Mr Mitchell the presence of many foreign investors in Liberia has begun to create an unfair playing field, leaving many Liberian entrepreneurs unable to compete - an issue he raised during his 10-year tenure as president of Liberia's Business Association.
Another obstacle slowing down growth in other parts of the country has been the lack of staff with specialised training in Liberia.
"The trouble is trained manpower, there are no institutions here for hospitality training, no institution for restaurant training, there's no institution for catering training. And all we are doing is trying to learn from other people and at the same time institute some training programmes ourself."
Peace and prosperity
But the presence of foreigners in Liberia has proved a mixed blessing for Mr Mitchell.
He credits his strong ties with the international business community in Liberia with enabling him to overcome some of the financial difficulties he has faced.
"I have developed a lot of very strong relationships with our foreign partners, the Lebanese and Indians, and as a result of that I'm getting unsecured credit from them. This is why supplier's credit is so good. It's unsecured and it's interest-free - even better than a bank, even though it's a shorter period, sometimes you get 30 to 60 days to even 90 days."
Now he is looking at business models outside Liberia and is looking to Ghana, Nigeria, the US and China for ideas.
"They inspire me. When I go there and see what's going on and the war has taught us a lot of lessons. And we are putting those lessons into practice... Things are getting better, as long as there's peace there will always be prosperity."
"So we are hoping that this next six years and beyond, Liberia will be very peaceful and we Liberian businesses will take advantage of this."
African Dream is broadcast on the BBC Network Africa programme every Monday morning.
Every week, one successful business man or woman will explain how they started off and what others could learn from them.