South Sudan shuts oil output amid export row with Sudan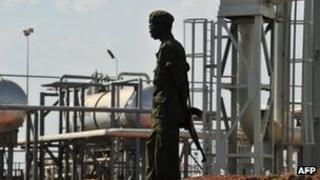 South Sudan says it has shut off its vital oil production industry amid a row with Sudan over export fees.
The newly independent country relies on Sudan's infrastructure to export its oil, but talks to agree the fees to do so have broken down.
The two countries have also failed to reach agreement on borders and accuse each other of backing militia groups.
UN Secretary General Ban Ki-moon warned the dispute had become a major threat to stability in the region.
"As long as these issues remain unresolved, tensions will only grow," he said, calling on the international community to take immediate action.
Speaking in the capital, Juba, on Sunday, South Sudan's oil minister Stephen Dhieu Dau said all production had been halted and that no oil was now flowing through Sudan.
"Oil production will restart when we have a comprehensive agreement and all the deals are signed," he told Reuters news agency.
Juba had threatened to take the action on 20 January, after Sudan seized tankers carrying southern oil, saying it was confiscating the oil in lieu of unpaid transit fees.
On Saturday, Khartoum said it would release the ships as a goodwill gesture to ease negotiations, but Juba said this did not go far enough.
It has accused it northern neighbour of stealing oil worth $815m (£518m) in total.
"If we want to continue negotiating with Khartoum then they must meet the minimum demands... The stolen crude must be paid back to South Sudan," said Mr Dau.
He said any deal now reached between the two countries must also address the disputed Abyei region, the undemarcated borders and require Sudan to "stop sponsoring militias in South Sudan".
"This deal must be overseen by the international community. We will restart operations when we agree all these issues," he said.
'Lack of political will'
Landlocked South Sudan seceded in July 2011 following a deal which ended decades of civil war. It took with it the lion's share of the region's oil, which now makes up 98% of its budget. But it relies almost entirely on Sudan's infrastructure to market the oil.
Sudan's President Omar al-Bashir and his South Sudanese counterpart, Salva Kiir, held talks on the sidelines of an African Union summit in the Ethiopian capital Addis Ababa on Friday, but failed to reach agreement.
Speaking in Addis Ababa, Mr Ban accused the two leaders of lacking "political will" and urged Mr Bashir in particular to "fully co-operate with the United Nations".
He said there was "great concern" that war could break out again and called on African leaders to "play a more important role solving regional issues".
Observers say the oil row has created the greatest crisis between the two states since South Sudan became independent.