Nigeria army kills 11 Boko Haram Islamists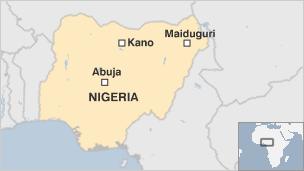 The Nigerian military has shot dead 11 members of Islamist militant group Boko Haram in the north-eastern city of Maiduguri, a spokesman said.
They died during a shootout in the capital of Borno state, he said.
But Boko Haram said its members had been picked from their homes by the army's joint task force and killed.
Last week, at least 185 people were killed in a series of bomb attacks in Kano, another northern city. Boko Haram said it carried them out.
Most of the victims were civilians.
The group - whose name means "Western education is forbidden" - has warned that it will continue its insurgency until Sharia law is observed throughout Nigeria.
If claims that the 11 Boko Haram members were picked up from their homes are true, it would represent a strong-arm tactics by the army, the BBC's Mark Lobel in Kano reports.
This could possibly inflame the situation further - similar to the violence in 2009 when then Boko Haram leader Mohammed Yusuf died in police custody, our correspondent adds.
A Boko Haram spokesman warned on Saturday that if group members - who had been captured in the north-western Sokoto state - were not released, Kano-style attacks would be launched there.
The spokesman also rejected Nigerian President Goodluck Jonathan's recent call for open dialogue to end the fighting.
He said the idea of talks was "impossible" while group members were being killed and - at the same time - being asked to surrender weapons.