South Sudan 'to complete shutdown' of oil production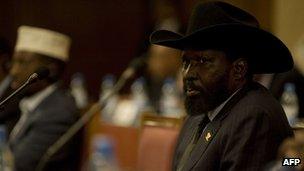 South Sudan says it will complete the shutdown of its oil production on Saturday, after attempts to resolve a dispute with Sudan failed.
The presidents of both countries held talks in the Ethiopian capital, Addis Ababa, but were not able to sign a deal.
South Sudan seceded from Sudan in July, and uses its northern neighbour's infrastructure to export its oil.
The two countries disagree about how much this should cost.
Oil transit fees are a big part of Sudan's budget. The country lost most of its oil producing areas when the south became independent.
It accuses South Sudan of not paying its fees, and has started seizing oil in lieu of those fees.
Reuters reports - citing industry sources - that Sudan has already sold at least one cargo of crude oil seized from South Sudan at a discount of millions of dollars, and is offering more.
South Sudan accused Sudan of "stealing" its oil and announced last week it would halt production.
Stopping oil production takes away South Sudan's main source of income, but the BBC's Sudan correspondent, James Copnall, says the world's newest country is showing no sign of backing down in what is being called the "oil war".
The president of Sudan, Omar al-Bashir, and his South Sudanese counterpart, Salva Kiir, have been holding talks in Addis Ababa, brokered by the leaders of Djibouti, Ethiopia, Kenya and Somalia. They have failed to reach an agreement.
South Sudan's lead negotiator at the talks, Pagan Amum, said the shutdown was nearly complete and would be finished on Saturday.
"The day after would be finishing the cleaning and the flushing of the facilities so that they are preserved," he said.
Correspondents say the row over oil has created the greatest crisis between the two countries since South Sudan became independent, and has stoked fears of a return to war.
Related Internet Links
The BBC is not responsible for the content of external sites.