Sudan: Brother of Darfur rebels' late leader takes over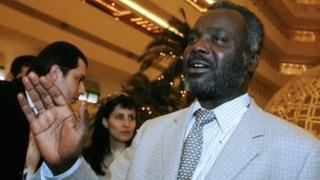 Darfur's main rebel group, the Justice and Equality Movement (Jem), has named a new leader - the brother of the former head killed last month.
Gibril Ibrahim was elected on Thursday, a rebel spokesman said.
Jem is part of a loose alliance of several rebel movements.
Sudan's President Omar al-Bashir is wanted by the International Criminal Court for alleged war crimes.
The charges focus on Darfur, where civil war broke out in 2003.
Some 2.7 million people have fled their homes since the conflict began in the arid western region, and the UN says about 300,000 have died.
Former leader Khalil Ibrahim was killed in an air strike in December.
He had ordered the daring, if failed, assault on the Sudanese capital in 2008, which established Jem as a major force.
The BBC's James Copnall in Khartoum says there had been speculation that Jem would fragment after Khalil's death.
Gibril Ibrahim is a former university professor who was part of Jem's negotiating team at failed peace talks in Abuja and Doha.
He was also in charge of external relations for Jem.
The movement's spokesman Gibril Adam Bilal told the BBC that the objective of overthrowing the government has not changed with the election of Gibril as leader.
The rebels signed a ceasefire with the Sudanese government in February 2010 but abandoned peace talks soon after, accusing Khartoum's forces of launching new raids in Darfur.