South Sudan in Kenyan oil pipeline deal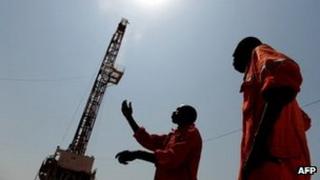 South Sudan has agreed a deal with Kenya to build an oil pipeline, potentially reducing its dependence on its northern neighbour Sudan.
It will link its oil fields to Kenya's Lamu port and should be ready in a year, a South Sudan minister said.
Industry analysts say such a pipeline would usually take at least three years to build and cost up to $4bn (£2.6bn).
Last week, South Sudan said it was stopping its oil production because of a row with Sudan over transit fees.
Since Sudan Sudan spilt from Sudan last July, relations have deteriorated.
The BBC's James Copnall in Sudan's capital, Khartoum, says the announcement of a new pipeline to Kenya is meant to reinforce the message that landlocked South Sudan can do without Sudan and its oil infrastructure.
Transit fees row
No date has been set for the start of the project but Elizabeth James Bol, South Sudan's deputy minister for petroleum and mining, says it will be "as soon as possible".
She told the BBC she expected the pipeline to be completed in about 11 months.
"The pipeline will be developed through Kenyan territory and will be built and owned by South Sudan," said a statement from the Kenyan Prime Minister Raila Odinga, who was in Juba for the signing of the deal late on Tuesday.
Alex de Waal, who is advising the African Union mediation panel for South Sudan and Sudan, wrote this week that such a pipeline might take three years to build.
Correspondents say there are also worries about the impact of the proposed pipeline on Lamu, which is one of East Africa's most beautiful and relatively unspoiled environments.
South Sudan and Sudan - who fought a decades-old bitter civil war - remain at loggerheads, especially over oil on which both countries depend almost entirely for their revenues.
The south has the bulk of the oil - and 98% of Juba's budget depends on it.
But the north has the pipeline, refinery and the export terminal at Port Sudan on the Red Sea.
They have never agreed on the transit fees that Juba should pay Khartoum for pumping oil through its pipelines and using Sudan's oil export infrastructure.
President Salva Kiir of South Sudan has accused the Sudan government of illegally siphoning off $815m of its crude oil.
Khartoum has admitted to confiscating some for unpaid fees and last Friday South Sudan announced it was shutting down its oil production.
President Kiir said his nation would rather struggle for a bit than continue to hand over its oil revenues to the old enemies in Khartoum.
In the six months since South Sudan's independence, there has also been fighting in areas along the loosely demarcated border - with both countries accusing the other of backing rebels operating in their territories.
According to new images released by the Satellite Sentinel project, a campaign group set up by Hollywood star George Clooney, the army in Sudan is preparing for a new assault in one of these regions, South Kordofan.
Rebels in South Kordofan fought alongside southerners during the civil war that ended in 2005 with the south voting to secede last year.
Khartoum has denied accusations made by human rights groups that its army was carrying out ethnic cleansing in South Kordofan last year against the Nuba people, seen as supporting the rebels.
Analysts say it is difficult to verify any of these allegations as journalists, diplomats and humanitarian workers are not allowed in the region.