Libya: Competing claims over Bani Walid fighting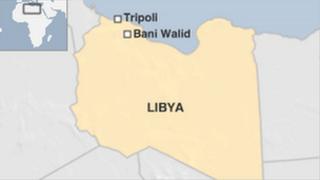 Confusion surrounds events in the Libyan town of Bani Walid after fighting broke out between armed groups on Monday, leaving four people dead.
The head of the local council has said a local militia was attacked by remnants of forces supporting late Libyan leader Col Muammar Gaddafi.
But the post-Gaddafi government has denied pro-Gaddafi forces were involved, saying instead the fighting was between rival militias.
The town is now reported to be calm.
The state-run Libyan news agency WAL quotes the head of Bani Walid's council, Mubarak al-Fatamni, as saying that forces loyal to the new government were attacked on 23 January in a "barbaric manner" by members of the "remnants of the Gaddafi regime".
Mr Fatamni said pro-Gaddafi forces raised their green flag over the town for a short time on Monday afternoon, the Associated Press news agency reports.
But spokesmen for the prime minister and defence ministry have told the BBC the dispute is a local one.
Armed groups
A source within the Libyan government, speaking on condition of anonymity, told the BBC the fighting broke out after a group of former rebel fighters, the 28 May Brigade, arrested one person.
The fighting was "more a clash between local people regarding a difference of who this [arrested] person was," the source said. "But of course now other people seem to be involved as well. The situation is not very clear who is who. It's still confused."
This is the latest in a series of clashes between rival armed groups, three months after the official end of the revolution that ousted Col Gaddafi, says the BBC's Gabriel Gatehouse in the eastern city of Benghazi.
On Tuesday, Reuters reporters who visited the town said militias loyal to the NTC had been driven out and town elders said they were appointing their own local government.
The Libyan defence ministry will be sending someone to the town, the government source said.
It is likely that some of the men involved in these latest clashes were indeed amongst those fighting on Col Gaddafi's side, our correspondent says - but in post-revolutionary Libya, the pro-Gaddafi label is also increasingly used in bitter local feuds.
Bani Walid was one of the last pro-Gaddafi towns to fall in the conflict.
Earlier this month, armed clashes between militias in the towns of Assabia and Gharyan left 12 dead and about 100 injured.
Libya's interim leader Mustafa Abdul Jalil has warned of the dangers of a civil war if the country's militias are not disarmed.