Somalia's al-Shabab attack Ethiopian base in Beledweyne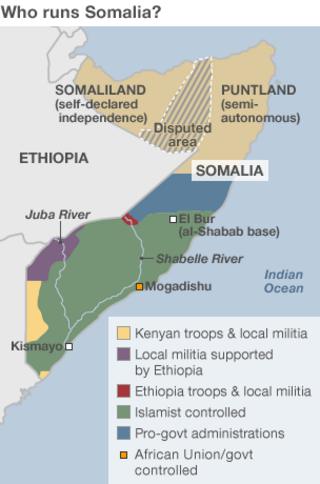 Islamist militants have launched a suicide truck bomb attack on an Ethiopian military base in central Somalia, witnesses say.
Al-Shabab says it killed 10 Ethiopian soldiers in the attack in the town of Beledweyne but this has not been confirmed.
Ethiopian forces seized Beledweyne from al-Shabab last month.
Kenyan troops have also entered Somalia to battle the al-Qaeda linked group which still controls many areas.
Beledweyne is a strategic town, 30km (20 miles) from the Ethiopian border on the main road to the capital, Mogadishu, and also on the major artery linking the north and south of the country.
"There was a heavy explosion that shook the whole the city," local security official Mohamed Osman told the AFP news agency.
"The suicide bomber was shot by security guards before reaching the gate and he blew up the vehicle. We are still investigating," he said.
Much of the government building, which Ethiopian troops had taken over, has collapsed, witnesses say.
Ethiopia has said it wants to withdraw its forces from Somalia and the African Union has said its troops will replace them, however no date has been set.
The AU is supporting government forces in Mogadishu. Al-Shabab pulled out of the capital in August 2011 but has continued to stage suicide attacks on the city.
'Renewed hope'
In what BBC correspondents say is a sign of increasing confidence in the security situation in the city, the UN special envoy to Somalia has moved his office back from neighbouring Kenya to Mogadishu - after an absence of 17 years.
"I sincerely hope that the arrival of the UN Political Office will mark the start of renewed hope for the future of Somalia," Augustine Mahiga said in a statement released after his arrival at the airport.
The office will be based in the African Union's main military camp, next to Mogadishu airport.
"We have much to do and we are eager to get straight to work," Mr Mahiga said, promising the move would "herald the beginning of a new era of co-operation and political engagement as the transitional period draws to a close".
The presence of Ethiopian troops in Somalia was hugely controversial in 2006-9, however, analysts say there is less opposition this time, as al-Shabab have lost some support.
The Islamist group has banned most international aid agencies from the areas it controls in the midst of the region's worst drought for 60 years.
Tens of thousands of people died, as some areas were declared famine zones.