Libya fighting: Four die in Gaddafi loyalists clash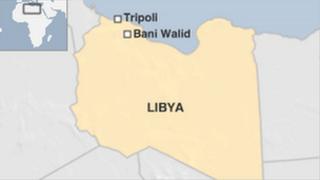 Four people have died in clashes between Libyan government forces and supporters of ex-leader Muammar Gaddafi in Bani Walid, south-east of Tripoli.
Pro-Gaddafi forces "control the town now," one member of a militia loyal to the ruling National Transitional Council (NTC) told Reuters.
The clashes erupted after militiamen allied to the NTC detained armed supporters of Col Gaddafi.
Bani Walid was one of the last pro-Gaddafi towns to fall in the conflict.
"There are around 100 to 150 men armed with heavy weapons who are attacking," Mahmud Warfelli, spokesman of Bani Walid local council, told AFP news agency.
"We have asked for the army to intervene, but the defence ministry and NTC have let us down," he added.
However, the Libyan Interior Minister Fawzi Abdelali said "internal problems" were to clame for the violence, not clashes with Gaddafi supporters.
"The information we have from inside the city does not say that there are green flags [a symbol of the former regime] and there is nothing in relation to the former regime," Mr Abdelali said on Libyan TV, AFP reports.
Earlier this month, armed clashes between rival militias in the town of Gharyan left two dead and more than 40 injured.
Libya's interim leader has warned of the dangers of a civil war if the country's militias are not disarmed.