Engaging Zambia's school drop-outs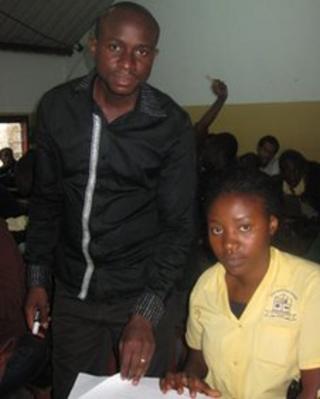 Changing the way people engage with education has become the life's work for Zambian teacher and entrepreneur Rozious Siatwambo.
He is the founder of the Great North Road Academy, an independent school in Zambia's capital Lusaka.
The school encourages "drop-outs" of any age to return to education.
Projectors are installed in classrooms to encourage interactive learning and students unable to attend classes can enrol in distance learning at home through DVDs and CDs recorded at the school.
Mr Siatwambo had a fairly conventional start in education - he gained a degree in education from the University of Zambia but after graduating he decided that he was not going to follow his peers.
"I didn't want to join the government. I didn't want to join anywhere. So what I had to do is, I had to now search my heart, search what I'd learnt at the university and then I started using those skills to come up with something," he told the BBC's series African Dream.
With his passion for education and determination to be his own boss, he identified a gap in the independent school market.
"If you look at most of these private schools, most of them are not run by teachers, most of them are just business persons, so I wanted to come up with something different which would have an education attached."
'Growing of ideas'
Mr Siatwambo reached out to the public to sell his idea.
"I started printing some flyers and also calling some people and I remember during the initial stages, sometimes I'd leave the office, I'd go on the streets," he told the BBC's Mutuna Chanda.
For Mr Siatwambo it is these early stages and the "growing of ideas" which enabled him to visualise how the school would work and how it would stand out from other independent schools.
"We started looking at where we can come out different from these other schools and we started bringing in new ideas such as modernising our system, ensuring that even those who didn't come here got the best services they could ever get. And this is what has seen rise us to this level," he said.
However, not many people seemed to have much faith in his plans.
He says he wrote to about 50 banks and organisations and received only rejections. But he describes this as an important lesson.
"I learned that you don't need to depend on others or even other organisations. You can still do it on your own. I find it sometimes cumbersome where I have to do all this paperwork so I would rather stand on my own."
He turned to friends who backed him to the tune of $15,000 (£9,700). This plus his own personal funds enabled him to put some money behind his idea.
Within the first month the school had enrolled more than 30 pupils. Today it has around 700 pupils and more than 30 employees.
Hijacked books
So given the large injection of capital he had, what is his response to those who might say they do not have the same financial advantages?
"You don't start a business with money, you start with an idea. And that idea it has to be grown," he says.
"So the idea is the one that is going to lead you to where money is. I had to grow that idea. Upon growing that idea, that's when my brain would tell me to say now can you source some money to fill the gaps.
"Running a business doesn't actually take money, it is the brain."
Mr Siatwambo has now turned his attentions to producing exam guides.
In 2006 he had the idea for Exams Made Easy and went about getting it published. To keep his costs low, he had the book published in China.
"After printing quite a number of copies [50,000] let me just say it was quite challenging because locally it was quite expensive to have a book printed," he says.
"There was one major challenge I faced when the books were being shipped to Dar es Salaam, Tanzania," he remembers.
"The ship that was carrying the books had been hijacked in Somalia and you can imagine there were only two weeks before the launch and I'd invited all the people, ministers and other people, so now what was I going to do? Abandon the launch? I just went ahead with the launch through just a few copies that I'd printed locally."
He now has plans to build on the book and to expand his Great North Road Academy.
"I have now converted the book into a DVD. My intention is to expand the school into a university in the next three or four years.
"I've already acquired some land. We wanted to construct a complex which will house a primary school, a secondary school and also a university. Now we are just looking at financiers to finance the work. Hopefully by 2015 all of the structures will be in place."
African Dream is broadcast on the BBC Network Africa programme every Monday morning.
Every week, one successful business man or woman will explain how they started off and what others could learn from them.