Malawian president backs women in trousers after attacks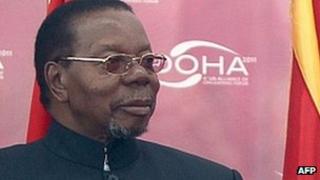 Malawi's president says he has ordered police to arrest anyone who attacks women for wearing trousers in public.
President Bingu wa Mutharika spoke out on national radio after several women were beaten and stripped on the street for wearing non-traditional dress.
Police said they had arrested several street vendors after the attacks in Lilongwe and the commercial capital Blantyre.
Women's groups say they are planning protests on Friday over the attacks.
Until 1994, women in the deeply conservative southern African country were banned from wearing trousers or mini-skirts under the autocratic rule of Hastings Banda.
Men were also banned from having long hair.
"I will not allow anyone to... go on the streets and start undressing women and girls wearing trousers, because that is illegal," President Mutharika said in his nationwide broadcast.
"You are free to wear what you want. Women who want to wear trousers should do so, as you will be protected from thugs, vendors and terrorists."
He said he was surprised that the women had been harassed when wearing trousers is "more protective to a woman than wearing a skirt".
Meanwhile, women's groups are planning protest marches and a sit-in in Blantyre on Friday.
Seodi White, a lawyer and leading women's rights activist, said protesters would gather "in solidarity with the victims and to express our indignation at such barbaric treatment of mothers, wives and daughters of our country".
"We are calling on all women and men of goodwill to urgently converge... for constructive engagement on the protection of women and the defence of their rights in a democratic Malawi," she said.
Malawi's Vice-President Joyce Banda earlier blamed the attacks on Malawi's economic woes.
"There is so much suffering that people have decided to vent their frustrations on each other," she said.
The country is currently suffering from severe shortages of fuel and foreign currency.