Zimbabwe policeman 'slept during Solomon Mujuru fire'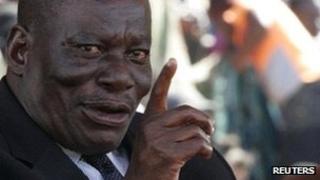 An inquest into Zimbabwean ex-military chief Solomon Mujuru's death has been told an on-duty policeman was asleep when the fire that killed him started.
After waking, the policeman said he was unable get help as his phone had run out of credit and his radio was faulty.
The inquest also heard that when the fire-brigade arrived at the farm, it had no water to extinguish the blaze.
Gen Mujuru was one of Zimbabwe's most senior politicians and married to Vice-President Joice Mujuru.
The BBC's Brian Hungwe in the capital, Harare, says his death in the fire has been the subject of much speculation and controversy.
His charred remains were found in the farmhouse in Beatrice about 80km (50 miles) south of Harare early in the morning of 16 August 2011.
'Shocking'
The police were supposed to provide round the clock security at the homestead on the 3,500-acre (1,416 hectares) farm, our reporter says.
Mrs Mujuru, who was not at the farm when the fire took place, said the testimony of the policeman, Obert Mark, was "really shocking".
Mr Mark said he was sleeping at a cottage near the farmhouse when the fire broke out - and was not on patrol as expected.
Gen Mujuru was a highly influential figure in President Robert Mugabe's Zanu-PF party.
Under his nom de guerre, Rex Nhongo, he was the director of Mr Mugabe's forces during the 1970s war of independence.
At independence in 1980 he took over the command of the army, before retiring and going into business 10 years later.
At the time of his death, he was believed to have been pushing for leadership renewal within Zanu-PF.
He was the only person believed to have had the stature to challenge Mr Mugabe during party meetings, our correspondent says.
The inquest into his death is expected to call more than 40 witnesses to testify.