Base jumper Jeb Corliss hurt in Table Mountain stunt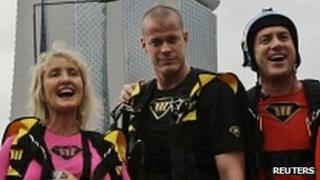 A professional American base jumper is in hospital in South Africa after crashing during a freefall drop from Cape Town's Table Mountain.
Jeb Corliss, 35, had glided off the peak in a wingsuit but clipped a rock some 60m (197ft) from the base of the mountain, tumbling on to a hiking path.
He was airlifted to hospital with leg injuries.
Officials at Table Mountain National Park say he did not have permission to jump and may press charges against him.
"The danger associated with base jumping does not allow us to issue permits. He did not have permission. We will definitely fine him and possibly press charges," spokeswoman Merle Collins told the Cape Times newspaper.
'Better than ever'
Video footage posted on YouTube shows Mr Corliss and another base jumper, both in wingsuits, jump from Table Mountain.
They can be seen gliding down and over a rocky outcrop, before Mr Corliss appears to fall sharply.
Another base jumper at the scene, Joby Ogwyn, said afterwards he was not sure what went wrong. "It could have been a strange gust of wind, it could have been that he got too close to the mountain," he was quoted as saying.
According to the Cape Times, Mr Corliss sent a message from his hospital bed, saying: "I feel better than I've ever felt".
Jeb Corliss's website describes him as is "one of the world's foremost and best-known BASE-jumpers and wingsuit pilots".
It says that, over 14 years, he has made more than 1,000 jumps around the world - from the Eiffel Tower in Paris to the Petronas Towers in Kuala Lumpur.
In September 2011, he jumped from a height of 2,000m (6,560ft) and flew into a hole in a mountain in China's Hunan province.
He is banned from New York's Empire State Building.