Which African leaders can make good speeches?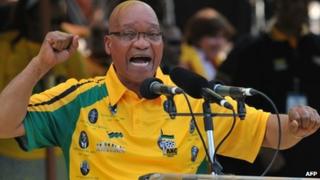 When were you last genuinely inspired by an African political leader's speech? And no, Barack Obama's "yes-you-can" 2009 performance in Ghana doesn't count.
I'm prompted to ask this following President Jacob Zuma's recent soporific address at the ANC's centenary celebrations, and the feisty debate it has triggered here in South Africa.
Nigeria's President Goodluck Jonathan has also squandered a couple of major opportunities already this year.
Could it be that soapbox speeches do not matter so much on this continent?
One seasoned commentator here suggested as much while making a brave stab at what amounts to a "general theory of South African political rhetoric".
The argument goes that politics, at least in this country, depends less on individual - glib or lofty, depending on your taste - Western-style television performances and more on structures, local branches and a collective spirit.
But that theory was quickly shot down in flames by a squadron of hacks keen to point out that Mr Zuma - a man of great personal charm who can also wow a crowd with his singing and dancing - is simply not much of a wordsmith and that no grander conclusions should be drawn.
Former President Thabo Mbeki - currently enjoying a minor revival - certainly believed in the value of political rhetoric. His "I am an African" speech from 1996 is rightly celebrated, but Mr Mbeki famously lacked the common touch - he would probably call it the "proletariat engagement" - and was more often mocked for his grandiloquence than praised for his eloquence.
So who else, among the current crop, springs to mind? On a good day, Zimbabwe's Robert Mugabe can still muster a certain snarling comic timing, while his nemesis, Morgan Tsvangirai sometimes leans a little to heavily on his footsteps-of-Mandela image.
Then there's the ANC's own Julius Malema - hardly a Cicero but an undisputed master of the punchy soundbite.
Closing the deal
And what about President Jonathan? He has been accused of failing to "sell" his recent decision to cut fuel subsidies to the Nigerian public (and of "overselling" the threat posed by Boko Haram).
His two television performances so far this year have been decidedly underwhelming - but would a more formidable "once more unto the breach" speech make a scrap of difference?
At this point I should probably mention the obvious - plenty of speeches, good or bad or - horror - not in English, no doubt slip under the media radar.
Perhaps the art is flourishing on the continent, but out of view. If so - examples please!
Whether that is the case or not, I suspect the future for the great African political speech is fairly healthy.
The era of the turgid, three-hour, presidential lecture broadcast live on state television, may not be quite over.
But as democracy appears to take greater root on the continent, accompanied by an increasingly robust media, it seems almost inevitable that politicians will be required to sell themselves and their message with greater consideration for their audience.