South Africa Kruger park rhinos to get extra wardens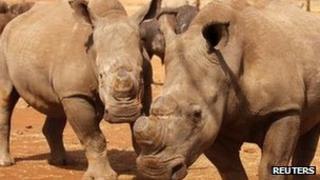 South Africa is hiring 150 extra rangers for the world-renowned Kruger national park to try to combat record poaching of rhinos for their horns.
Last week rangers found eight dead rhino in the park in just one day.
Last year, 448 rhinos were slain in South Africa, with more than half in Kruger.
A 150-km (95-mile) electric barrier will also be built along the border of Mozambique, where many of the poachers are believed to come from.
South Africa has been badly hit by poaching because it has the largest population of rhinos in the world, with about 20,000 animals - 70-80% of the global figure.
The number of rhinos slaughtered in 2010 was 333.
Growing Asian demand for rhino horn, believed to be a remedy for various illness including cancer, is thought to be behind the recent spike in rhino killings, even though there is no scientific evidence for its reputed medicinal properties.
Horns are also used in the Middle East to make handles for ornamental daggers.
Environment Minister Edna Molewa announced the extra rangers, which will boost the number to 650 in Kruger - one of South Africa's top tourist destinations.
A government-commissioned study into whether legalising trade in rhino horn could help to bring down poaching is due in August.