Tunisia uprising: Country marks year since Ben Ali fled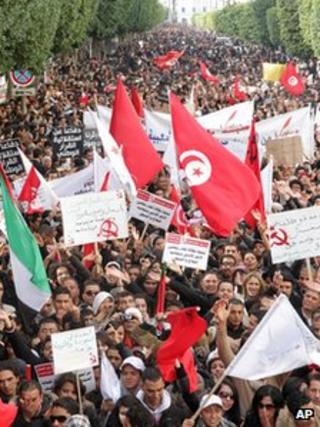 Tunisians have marked the first anniversary of the ousting of President Zine al-Abidine Ben Ali, an event that triggered the Arab Spring.
Crowds filled Bourguiba Avenue in the capital, Tunis, where weeks of mass protests forced Mr Ben Ali to step down and flee the country.
A number of North African and Middle Eastern leaders attended the events.
President Moncef Marzouki reassured Tunisians that their sacrifices a year ago would not be wasted.
In a televised broadcast, he said the Tunisian revolution had opened the door to a bright future.
UN chief Ban Ki-moon also said in a statement that the world was inspired by Tunisia's demands for freedom.
"Their courage echoed throughout the region, where other peoples, encouraged by the actions of their Tunisian brothers and sisters, found the courage to also make their rightful aspirations heard," he said.
Correspondents say that Tunisia's new authorities did not try to stage-manage public celebrations.
Instead, Tunisians were invited to descend on the centre of the capital to mark the day in their own way.
Those marching down Bourguiba Avenue chanted slogans such as "Tunisia is Free" and "Bye bye dictatorship. Welcome freedom".
Others waved Tunisian flags and some carried cages with their doors swinging open.
"This is an occasion when all Tunisians should celebrate with pride," said Samir Ben Omrane, in the centre of Tunis with his wife and daughters.
His wife carried a birthday cake with a single candle on the top.
"I am happy that my children can live in freedom in this country, which has provided an example to the world," he said.
Elections pledge
President Marzouki declared Saturday a national holiday. He marked the event by granting pardons to 9,000 prisoners and commuting 122 death sentences.
"The people want to see the continuation of the democratic process and to ensure that it does not face a setback," he said in his televised speech.
"Therefore, the government will make sure that elections are held and that they be free and fair, just as the previous election that we all witnessed and that made us hold our head high among other nations."
Tunisia still faces serious problems including steeply rising unemployment, social unrest and corruption.
Amid Saturday's celebrations, a crowd of young people gathered in front of the Interior Ministry headquarters to press for deeper reforms.
The Tunisian uprising was inspired by the suicide of young market trader Mohamed Bouazizi who set himself alight in front of the town hall in protest at petty corruption.
His death in December 2010 sparked weeks of mass protests across Tunisia as anger over corruption, rising food prices, unemployment and lack of freedom boiled over.
After trying unsuccessfully to appease protesters with pledges of reform, President Ben Ali announced he was stepping down on 14 January 2011. He then fled to Saudi Arabia with his family.
Ben Ali was sentenced in absentia last June, along with his wife Leila, to 35 years in prison for embezzlement and misuse of state funds.