Kampala shops shut over Uganda interest rates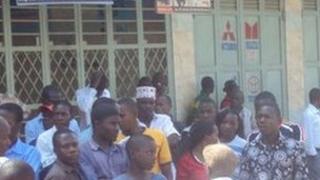 Businesses in Uganda's capital, Kampala, have closed their shops and are boycotting banks to protest at high interest rates.
Uganda's central bank raised rates last year when inflation hit more than 20%.
Shopkeepers in Kampala say interest rates of up to 27% are crippling their businesses.
A BBC correspondent says most shops are closed, leaving customers who travel to Kampala from across east Africa unable to stock up.
The Kampala City Traders' Association - which called the strike after two days of negotiations with the government broke down - say shops will stay closed for three days.
"We are not saying they should not increase interest rates," the traders' spokesperson Isa Ssekito told the BBC's Network Africa programme.
"What we are saying is that they should not increase rates on old loans," he said.
Business owners also say for the next three days they will withdraw all their savings from commercial banks and stop making any deposits into their accounts.
The Bank of Uganda increased its base rate last year in response to soaring inflation, prompting banks to increase rates on new and old loans and pushing up the cost of doing business.
Prime Minister Amama Mbabazi says the government is looking at ways to help people struggling to repay loans because of the rate hikes, but says striking may aggravate the problem.
"I don't think striking will save [traders'] property; I don't think striking will save your business," Mr Mbabazi told the BBC.
"In fact, striking will hurt you and hurt all of us as a country," he added.
The BBC's Ignatius Bahizi in Kampala says hundreds of people are standing around on street corners, with the police monitoring the situation.
Kampala is an east African trading hub and many of the people unable to shop have come from other parts of Uganda, as well as eastern Democratic Republic of Congo and South Sudan.
City traders have used this tactic before, in July last year, to protest over the country's weakened currency and the presence of cheap goods in Chinese shops.