ICC extends deadline Saif al-Islam Gaddafi deadline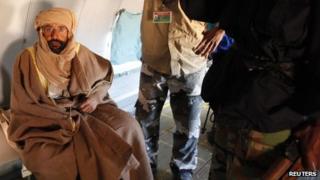 The International Criminal Court has extended a deadline for Libya to provide information on the health and status of Saif al-Islam Gaddafi.
The former Libyan leader's son was captured in southern Libya in November.
A spokesman for the court told the BBC that the deadline - originally Tuesday - was now 23 January.
The ICC, based in in The Hague, has indicted him for crimes against humanity but Libya's new leaders say they want him to stand trial in Libya.
The court could refer Libya to the UN Security Council if there is no response to its request for information.
The ICC chief prosecutor Luis Moreno-Ocampo has accepted that Saif al-Islam will be tried in Libya. However, the ICC is seeking assurances that the country's justicial system can produce a fair trial and the court's judges have to decide whether Libya has jurisdiction over Saif al-Islam follwing a request from the Libyan authorities.
In a visit to Libya in November, Mr Moreno-Ocampo said: "The standard of the ICC is that it has to be a judicial process that is not organised to shield the suspect."
He added: "I respect that it's important for the cases to be tried in Libya… and I am not competing for the case."
Saif al-Islam, Col Muammar Gaddafi's most prominent son, is being held in the western town of Zintan. He was arrested while trying to flee the country.
He told a representative of Human Rights Watch last month that he was being treated well, but had not seen a lawyer or heard the detailed charges against him.
Fred Abrahams of Human Rights Watch told the BBC that he had the impression from their meeting that Saif al-Islam "doesn't fully understand that he is no longer one of the most powerful people in the country".