Magic fails to help Cameroon's footballers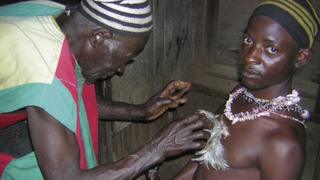 As football fans gear up for the African Cup of Nations, Randy Joe Sa'ah reports for the BBC's Focus on Africa magazine on the continued use of supposedly magic charms by players and officials in Cameroon. If used, however, they did not help this footballing giant qualify for this year's tournament.
For most Cameroonians a football match is a spellbinding affair. In anybody's book this is the country's favourite sport; it pulls huge crowds and has earned the country international acclaim.
But it is not just the goal-scorers and team coaches who bask in glory when a local or national team wins.
Behind the scenes marabouts - or juju men - also claim credit.
Armed, they say, with supernatural powers, these witchdoctors prepare charms that they believe will help propel teams to victory and confuse opponents.
There are a number of ways that football charms can be administered. Palm oil, popularly known in Cameroon as manyanga, could be rubbed on the ankles or kola nuts, another charm, could be given to players to eat.
In other cases, the players may be asked to jump over a bonfire before the game.
Or players may be nicked in the ankles with a razor blade and black powder rubbed into the wounds.
Then they would be given rules such as not shaking hands with anybody before the encounter or entering the field by walking backwards.
Graveyard camping
In the past even more extreme practices were undertaken in the name of football success.
It was very common to hear that players of a team had gone camping in a graveyard the night before an important game.
The objective was to harness some invisible force from the departed.
The juju man would assure the players not to panic if they heard a noise or felt a touch in the dark as this could be the "ghost" filling their boots with supernatural powers.
While many believe that such witchcraft is dying out, the Menchum Voice newspaper in Cameroon recently reported on the practice at a local football cup final.
The players of the losing team openly poked fun at their witchdoctor for not being strong enough to secure a win. In the same breath, they praised the opposition's juju man for his superior powers.
But it is not confined only to local club football. Michel Zoah, Cameroon's minister of sport and physical education, faced questions from members of parliament about the dismal performance of the national side, nicknamed the Indomitable Lions, at South Africa's World Cup in 2010.
The team was disqualified from the tournament and it was no secret that there was a lack of cohesion and focus due to a multitude of problems and internal wrangling.
According to the minister, these included witchcraft, mysticism, jealousy and disorder.
For Cameroonian journalists who also observed the team at the Africa Cup of Nations in Angola and South Africa in 2010, the minister simply confirmed what they already suspected.
The journalists talked of "suspicious persons" with "strange behaviours" in the official delegation to the tournament.
"One of them always had a box of matches even though he was not a smoker. Worse still, he lit candles in broad daylight. If this was not a juju man, then who was he?" asked one journalist.
Although officials from the ministry of sport deny footing their travel and accommodation expenses, these people were presented as administrators of the national football federation and were paid allowances like everyone else in the delegation.
Feathered creatures
But such practices have a history. During one of Cameroon's local cup finals in 1975, the goalkeeper of Aigles of Nkongsamba came onto the pitch with a live eagle.
This was threatening enough for the supporters of the opposing team, Canon Yaounde, who violently agitated for the bird to be taken away.
A clash in late 1991 between Diamond of Yaounde and Caiman Douala also had its share of controversy.
Much was riding on the match: Diamond had to win to escape relegation to division two. And Caiman would become champions of Cameroon by winning the game.
But a hawk threatened to steal the show. It perched on Caiman's goalpost after the start of the game, and remained there despite attempts by the crowd and the referee to chase it away.
In the end, Caiman won the game. And shortly after the final whistle the bird flew away, drawing applause from the supporters of Caiman who were adamant the incident was no accident.
Another story involving a feathered creature relates to the 1990 World Cup in Italy.
Cameroon were playing England. The story goes that a white dove flew onto the pitch during the match and many thought it was the result of magic.
It was strongly rumoured that the Lions arrived with a marabout and that a 2-1 victory was forecast for Cameroon. This prediction was overturned when England equalised.
Training and fitness
But Tataw Stephen, Cameroon's captain at the time, denied these claims: "I heard about most of these things later. I didn't see any dove… we did not take along any witchdoctor. With us there was never a thing like that."
Cameroon's current national team striker Mathew Andongcho Mbutta does not believe in juju powers either.
"If these so-called marabouts really had all this influence, they would have been the best footballers themselves," he says.
Mbah Johnson Titang, his mentor and well-known sports promoter in Bamenda in north-west Cameroon, chips in: "Juju cannot win a match. It takes good training and physical fitness to excel and win a game."
While Mr Stephen and others may be dismissive, veteran journalist Njomo Kevin, who regularly follows the country's national squad across the globe, says many still fear Cameroonian "black magic", even the country's biggest rivals.
For instance, during a World Cup qualifying match between Cameroon and neighbouring Nigeria in the capital, Yaounde, over two decades ago, the Nigerians refused to enter any vehicle provided by the Cameroonian authorities.
"[On arrival at the airport] they got into the bus of the Nigerian embassy, and spent the night in the embassy instead of the hotel," says Mr Kevin.
"When they came to the stadium, they all had their boots in their hands. They allegedly did not want to get contaminated with charms planted in the dressing room, and only put on their boots when they got into the stadium." Nevertheless, Cameroon won the match.
Traditional concoctions
Of course there are people in Cameroon who claim to have spiritual powers.
Mohammed from Bamenda is one who says he inherited the gift from his late father - a traditional healer.
Now he earns a living as a diviner and says many players and team managers consult him for powers to progress in the sport.
He claims he can cast spells on a ball or smear a team's goalposts with magic potions to keep the ball out.
"European players take drugs to improve their performance. We Africans do not have access to drugs. We've got a third eye and traditional concoctions that scientific tests cannot detect," he boasts.
Mohammed explains away the infighting and performance of Cameroon in South Africa as "too many cooks spoil the broth".
In other words, he believes that there were too many marabouts working for the Lions.
More recently, Cameroon's star player Samuel Eto'o has been banned for eight months after leading a player's strike in a row over appearance money.
Although this blew up after the team had already failed to qualify for the Cup of Nations, it highlights a huge lack of trust between players and administrators.
There have also been quarrels between players and a rapid turnover of coaches.
It could take more than magic charms to restore Cameroon football to its former glory.