Kenyan troops 'kill 60 al-Shabab fighters' in Somalia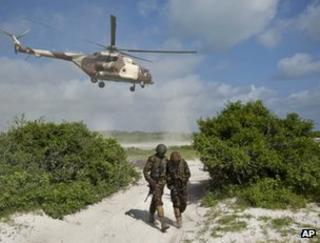 The Kenyan army says it has killed 60 Somali al-Shabab militia fighters in air strikes and is determined to "break their spine completely".
A further 20 of the Islamist fighters defected in recent weeks, army spokesman Col Cyrus Oguna told reporters in the Kenyan capital.
But al-Shabab responded by promising to defeat the Kenyans.
It is extremely hard to verify reports from inside Somalia and the two sides' versions of events differ widely.
While the Kenyan army has captured ground, progress has been slow, partly because of poor weather, the BBC's Will Ross reports from Nairobi.
However, a recent incursion into Somalia by Ethiopian troops has further increased pressure on the militants.
Somalia has not had a functioning central government for more than 20 years and has been torn by fighting between various militias.
In another development, the UK Foreign and Commonwealth Office has warned that Kenya is currently on the alert for a terrorist attack.
It has asked British citizens to "exercise extra vigilance and caution in public places and at public events".
Police caution
Kenyan air strikes hit al-Shabab positions in Garbaharey in southern Somalia's Gedo region, according to Col Oguna.
As well as losing "60 or more" fighters, the militia suffered 50 injured, he said.
"We will keep hitting them until their spine is completely broken... and we will relish that moment," the Kenyan spokesman added.
"The resistance from al-Shabab is crumbling, there is division within the al-Shabab leadership," he said.
In a message on Twitter, al-Shabab said the Kenyan military intervention was "rapidly rolling down a path towards an ignominious end endured by all previous invaders".
In Nairobi, a Kenyan police spokesman warned that the militia were still a threat.
"We don't believe that al-Shabab activities are totally neutralised," Eric Kiraithe told reporters.
'Liaison officers'
Al-Shabab has denied involvement in raids on Kenya's coast last year which targeted foreign tourists and threatened a valuable industry for the country.
In response, Kenya sent troops into Somalia in October.
Ethiopia sent its forces across the border in November, driving al-Shabab out of the strategically important central town of Beledweyne and forming a new front against the militia.
Col Oguna said Kenya had exchanged liaison officers with the Ethiopian army since they both faced a common enemy but the two fronts remained separate.
"The Ethiopians... might ease pressure because al-Shabab will be spread out with more enemies to fight, but they have their operation, and we have ours," he added.
A third force confronting al-Shabab is a 10,000-strong African Union contingent made up of troops from Uganda, Burundi and Djibouti.
Its task is to defend Somalia's Western-backed government from al-Shabab in the capital Mogadishu.