Sudan's Bashir offers help to Libya during criticised visit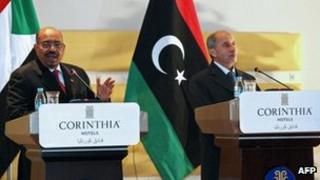 Sudan's President Omar al-Bashir has offered to help Libya disarm former rebel groups, on his first day of a visit which has angered rights groups.
He also said the fall of former Libyan leader Col Muammar Gaddafi was like a "gift" to the Sudanese people.
Mr Bashir is wanted by the International Criminal Court (ICC) on charges of genocide in Darfur.
Rights groups said the visit challenged the new Libyan government's commitment to human rights and the rule of law.
Libyan authorities have been struggling to disarm the many militia groups which formed to fight Col Gaddafi during the country's eight-month civil war.
'Disturbing'
"We have good experience in integrating insurgents and entering them into the armed forces or the police," Mr Bashir said at a joint news conference with Mustafa Abdul Jalil, chairman of Libya's ruling National Transitional Council (NTC).
"Our officers are ready at any time."
Under Col Gaddafi's rule, bilateral relations were strained because Sudan accused him of supporting rebels in Darfur.
In return, Mr Bashir openly supported last year's rebel uprising in Libya. According to Reuters, Mr Jalil - who visited Khartoum in November - has said Mr Bashir supplied Sudanese weapons and ammunition to the former rebels.
In his first visit to Libya since the NTC took power, Mr Bashir said Gaddafi's departure was the "best piece of news in Sudan's modern history".
"We came here to thank the Libyan people for the gift they offered to the Sudanese people by removing Gaddafi," he said.
"Injustice, aggression and violence led to the division of Sudan, and this had the direct support of Gaddafi," Mr Bashir added, AFP reports.
But the NTC's welcome for Mr Bashir was criticised by Richard Dicker, international justice director at Human Rights Watch.
In a statement, he said the welcome offered to Bashir "raises questions about the NTC's stated commitment to human rights and the rule of law".
"Following the end of decades of brutal rule in Libya, it is disturbing if Tripoli hosts a head of state on the run from international arrest warrants for grave human rights violations."
The ICC has issued two warrants for Mr Bashir's arrest - the first, in March 2009, on counts of crimes against humanity and war crimes, and the second, in July 2010, on three counts of genocide.
The warrant obliges all countries who are signatories to the ICC charter to arrest Mr Bashir if they have the chance - Libya is not a signatory.
Mr Bashir has avoided arrest on a number of trips abroad, including trips to Chad, Kenya and Malawi - all ICC signatories - in the last year alone. He also visited China, which is not a signatory.
Several African states have been referred to the UN Security Council by the ICC over their failure to to co-operate with the court.
Some 2.7 million people have fled their homes since the conflict began in Darfur in 2003, and the UN says about 300,000 have died - mostly from disease.
Sudan's government says the conflict has killed about 12,000 people and the number of dead has been exaggerated for political reasons.