Golf for all?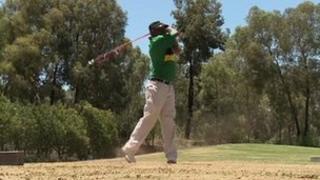 Andrew Mlangeni was in a hurry.
"We have lots to celebrate," said the 86-year-old anti-apartheid icon, former Robben Island prisoner, and friend of Nelson Mandela. "But now I must play golf."
Mr Mlangeni was in Bloemfontein for this weekend's ANC centenary festivities, which began on Friday with a golf tournament for senior party figures and VIPs.
"I have a handicap of 16," he said, before speeding off in his golf cart - "not bad for a man of my age."
Does golf send off the wrong messages for a party already accused of being elitist, corrupt and out of touch with the struggles of ordinary South Africans? Across town, the ANC's disgraced but militant youth leader, Julius Malema, reportedly was busy telling his supporters that the party's leaders were "baboons" who ignored the poor.
Relaxing at the clubhouse, the ANC's spokesman Jimmy Manyi shrugged off such barbs and looked forward instead to a time when there would be golf courses for everyone in South Africa.
I'm tempted to side with Mr Manyi on this one. The tournament may not be a public relations coup, but on a weekend steeped in history, there is a certain irony to be enjoyed from the sight of ANC leaders - branded terrorists not that long ago - teeing off at a golf course once reserved for white players and their black caddies.
Before Mr Mlangeni joined his comrades for another round, I asked him about the mounting accusations of corruption, incompetence, and authoritarianism levelled at the ANC. As you'd expect from a disciplined party member, he was quick to defend the organisation.
The only surprise for me was the vehemence with which he blamed the media for distorting the truth because "it would like to see the ANC fail".
"The ANC is receiving a lot of criticism, but that's natural - any government in power is always criticised... But the ANC has not lost its way. It has done a great deal since 1994… I don't think any other party would have done that.
"I don't know about divisions [in the party]. That's all media speculation - they would like to see the ANC fail [but] failure won't come. We may lose a few seats in the future because of perceived divisions… but I think the ANC is going to be in power for a long time to come.
"There is corruption, I agree, and we are fighting it - a lot of corruption, but the ANC is not the only party where there is corruption - there is plenty in Western countries… Perhaps it is worse here because we have not as yet delivered services fully to the people.
"So the fight goes on. I'm saying mistakes have occurred. Let us correct those mistakes and move forward," he said.