Wind and sunlight make Kenyan profits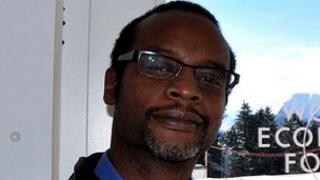 Many things may be lacking in Africa but there are two which are abundant and free all over the continent - wind and sunlight - and Kenya's Anthony Kiptoo Ng'eno decided to turn them into a profit.
In 2001 he and his partner Michael G Chavanga formed a company, Winafrique Technologies Ltd, with the goal of taking advantage of the opportunities offered by the renewable energy market in East and Central Africa.
"When we started off the company, we were given a very difficult challenge of powering a very remote site, and we quickly realised that conventional power could not reach where this project was going to happen and diesel engines were also going to be very expensive, so we started looking at renewable energy," Mr Ng'eno told the BBC's series African Dream.
"We quickly got training from China, Hong Kong and the US on how to design, supply and maintain, and we met quite a few people - consultants, engineers - who also helped us build the company along the way," he said.
"Once we recognised that there was that niche, it was just pure focus. We knew we could do it, and we just went after it".
Winafrique's main investment has been in wind-solar hybrid energy but it also works on water pumps and energy storage.
The company offers its services to private clients and to governments, aid agencies and businesses.
Green pioneer
So far the company has installed more than 150 hybrid power systems in different parts of Kenya. Winafrique is also in charge of their maintenance.
The company has established partnerships with Safaricom, the country's main mobile telephony firm, and with the low-energy computer provider Inveneo, among others.
It has also worked with the International Committee of the Red Cross to provide wind and solar power to a water desalination plant in Lamu, on the Kenyan coast.
Winafrique's work and its positive environmental impact have not gone without recognition.
In 2009 it was the winner of a Green Telecoms Award at the AfricaCom conference in South Africa, in 2010 it was chosen as the Best Green LTE Product or Initiative at the LTE World Summit in the Netherlands, and in 2011 the company was recognised as a Bloomberg New Energy Finance Pioneer.
"I have a passion for green energy as it is one of the technological leaps that will allow Africa to address its development challenges," Mr Ng'eno said.
Surprised looks
The entrepreneur, who previously worked in London and has a degree in Computing and IT from the Open University in the UK, said that getting initial funding for Winafrique was not easy.
"It was a start-up, a completely new idea, a new concept, so there was a lot of resistance, a lot of surprised looks when we introduced ourselves for what it is and what we are doing," he told the BBC.
"The business side of it was very difficult because nobody had done it before, specifically the way we were going to look at it. There was no track record for anybody to follow so everything was purely first time.
"You go into a bank and you have to negotiate from zero, you have to sell them the idea of what it is that you're doing before they can finance the idea. It was a very engaging process and it has taken us up to today".
But he admitted that he could have helped to kick-start his company by writing a better business plan.
"I think that's what we needed, a more aggressive business plan, more engagement of finances, probably, I think those are the two main issues."
Does he have any advice for younger entrepreneurs?
"Hard work, hard work, hard work, and you also have to focus the hard work - you have to have a strategy," he said.
"You have to have a product, and be organised, all the way from your internal organisation to your financial organisation to the structure of your company."
African Dream is broadcast on the BBC Network Africa programme every Monday morning.
Every week, one successful business man or woman will explain how they started off and what others could learn from them.