Ficksburg asks if ANC still part of the solution?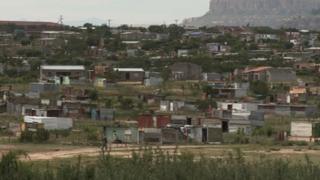 The sludge of an open sewer snakes past a tin shack, and across a dirt track that meanders through Ficksburg - a small, fairly typical South African town, tucked between rugged hills on the border with Lesotho.
I have come here, en route for the grand weekend centenary celebrations of the governing African National Congress (ANC) in the nearby city of Bloemfontein, to see how the continent's oldest and most famous liberation movement is coping with the more nuanced challenges of local government, 18 years after it came to power.
The short answer is "very badly".
But as usual in South Africa, the bigger picture is more complicated - stained and warped by apartheid's legacy, poor education, inflated expectations, an entrenched culture of entitlement, the struggle to collect and allocate revenues, and sky-high unemployment.
Ficksburg retains the topographical scars of apartheid - still divided between a prim, well-built town centre, once reserved for whites, and a sprawling "township" filled with the stench of sewage and uncollected rubbish, but packed too with neatly manicured front gardens, kiosks, and small, brick-walled government-built houses.
Last year, public anger about the lack of basic services and enduring unemployment in the township triggered the sort of protests that have become increasingly common across South Africa.
A local man, Andries Tatane, was killed - his death caught by television cameras - when the police tried to confront the marchers.
Today, almost everyone I speak to voices disgust for what they see as the corrupt, incompetent local ANC-run council.
'Corruption'
But the community is also bitterly divided about the way ahead, with some tempted to turn their backs on the ruling party, but many more reluctant to abandon a deep, instinctive loyalty to the organisation of liberation giants like Nelson Mandela, Walter Sisulu, Oliver Tambo.
"I think the ANC has collapsed - it can't be fixed," says Vincent Mojase, a local councillor who abandoned the ruling party to join the struggling Congress of the People (Cope) opposition.
Cope and the Democratic Alliance (DA) have eight seats on the council, he says, but the ANC has 26.
"Corruption is very rife. We've had enough of them," he says.
"They can be beaten but the population must be taught to vote on merit, not on the history of a certain political party.
"We wish they will lose power peacefully because we don't want to be in a situation like Egypt or Tunisia or Libya. It can happen peacefully because South Africa is famous for its negotiations."
Justice, a gangly law student standing with friends at a busy intersection, is tempted to agree.
"There's still no jobs, still corruption at the municipality. Personally I'm falling out of love with [the ANC]. I might vote for someone else," he says.
But Anna Lewana, a 72 year old living in the tin shack I first saw beside the open sewer, was adamant.
"I will die voting for the ANC. Even though I have not been given a house, they gave us our freedom," she declared.
It is a widely held view.
'Woeful finances'
Several local ANC officials declined to speak to us. But Molefi Nonyane, an ANC member and local community organiser insisted that "the ANC can be very much part of the solution".
He blamed poor communication between different administrative structures, and urged people to be patient, saying the picture was complex, with local feuds often fuelling the protests.
There are not many white people left in Ficksburg.
"Perhaps 6,000 of us," says lawyer Ben Du Toit, who holds a seat on the council for the opposition DA.
The town's finances are, he claims, "in dire straits".
"There's no real money for infrastructure development or maintenance. There's a lot of… mismanagement of funds and corruption. 300 million rand ($37m; £24m) is still owed to the municipality and they're not doing anything to collect it," he says.
The main problem, he insists, is that the ANC hires people based on their loyalty rather than ability.
"They've appointed people totally unsuited for the job. I don't think things can get any worse.
"The ANC is very much about pomp and splendour - they spend lots of money on things that have nothing to do with service delivery," he says, referring to this weekend's centenary events.
"We need to get people thinking about politics. But it won't be quick - maybe not in my lifetime."
The road I took into Ficksburg was a sea of potholes. But driving south west towards Bloemfontein, I see workers busy widening and resurfacing the route.
The ANC has plenty of achievements it can point to in government. But close up, its failings are glaring.