Nigeria's Ebonyi state ethnic clashes: 50 killed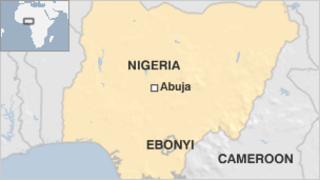 At least 50 people have been killed in eastern Nigeria in clashes between rival ethnic groups, officials said.
A government spokesman said the violence in the state of Ebonyi took place between the Ezza and Ezilo peoples due to a land dispute.
Dozens of riot police have been deployed to the area, officials said.
The attacks came hours after a state of emergency was declared in parts of the country due to an unrelated spate of attacks by Islamist group Boko Haram.
President Goodluck Jonathan vowed to "crush" Boko Haram, just days after the group carried out a deadly bombing on a church on Christmas Day.
State governor visit
Onyekachi Eni, a government spokesman, said the killings in Ebonyi took place after members of the Ezza group "invaded and attacked" the neighbouring Ezilo community.
"The dispute between the two communities, which started in 2008, was believed to have been settled until the latest conflagration," he said.
The state governor and police chief have visited the area to view the damage, Mr Eni told AFP news agency.
The BBC's Tomi Oladipo in Lagos say the two groups have a history of land disputes, in an area where most of the people depend on subsistence farming for a living.
Our correspondent says that while these attacks do not appear related to those by the Islamist group Boko Haram, the clashes only add to the list of President Jonathan's problems, with security forces already having their hands full trying to suppress the mounting insecurity in the north.
On Saturday, Mr Jonathan declared a state of emergency in parts of the country following the attacks from Boko Haram, including one on Christmas Day in Abuja which killed dozens of people.
The measure is in force in areas of the Yobe and Borno states in the north-east, Plateau state in central Nigeria and Niger state in the west.
International borders in the affected areas have been temporarily closed.
There is growing concern that Boko Haram - whose name means "Western education is forbidden" - has developed a presence across the region.