South Sudan cattle clashes: UN moves troops to Pibor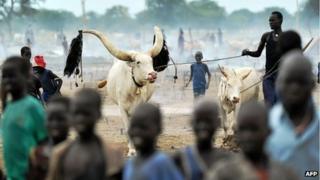 The United Nations is sending troop reinforcements to the South Sudanese town of Pibor to prevent an attack by members of the Lou Nuer ethnic group.
Tens of thousands of people from the rival Murle group fled the town on Friday morning, fearing violence.
Inter-ethnic clashes in Jonglei state, initially triggered by cattle raids, have cost the lives of about 1,000 people in recent months.
The UN already has a battalion of troops in Pibor.
Most victims of the clashes have been women and children. Both communities have abducted children during the violence.
Correspondents say these attacks are one of the biggest challenges to the stability of South Sudan, the world's newest country. It only became an independent nation in July.
It is one of the world's poorest regions, inhabited by about 200 ethnic groups, each with its own language and traditional beliefs.
About 6,000 armed men from the Lou Nuer community are marching through Jonglei state burning homes and seizing cattle along the way, says BBC East Africa correspondent Will Ross.
Earlier this week the entire town of Lukangol was burnt to the ground by Lou Nuer fighters. About 20,000 civilians managed to flee the town before the attack, but dozens were killed on both sides.
'Poorly equipped'
The United Nations humanitarian co-ordinator in South Sudan, Lise Grande, told the BBC that the UN was reinforcing its troops in Pibor to assist the South Sudanese army in defending civilians.
"We are very concerned by the scale of this," she said.
"The UN is facing enormous logistical challenges - we still have no military aircraft, only civilian helicopters," she added.
Jonglei governor Kuol Manyang Juuk told the BBC that the UN would not be able to contain the violence because the Lou Nuer were moving around in the bush, rather than staying in towns.
He also said South Sudan's army was badly equipped and most of its soldiers had been deployed to the border with Sudan following recent unrest there.
"We can't work miracles," he said.
South Sudan Vice-President Riek Machar has been shuttling between the rival communities in a push for peace. On Thursday night it seemed he had persuaded the Lou Nuer not to attack Pibor - but they then left in their thousands overnight heading towards that town.
Cattle plays a central role in the life of many South Sudanese communities. In the absence of banks, they are used to store wealth and to pay bride prices.
The violence between the two communities has been going on for years, but with modern weapons its scale is increasing.
Our correspondent says the clashes may have begun as cattle raids, but they have spiralled out of control into retaliatory attacks.