MSF names Somalia aid workers killed in Mogadishu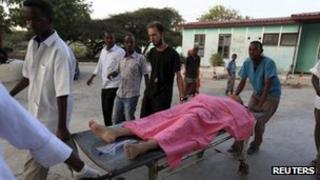 Two aid workers shot dead in the Somali capital have been identified as Belgian and Indonesian nationals.
The pair worked for medical charity Medecins Sans Frontieres, which said it was relocating some staff as a result of the shooting but would continue its humanitarian work in the country.
MSF said one of their workers shot Belgian Philippe Havet, 53, and Indonesian Andrias Karel Keiluhu, 44.
Somalia is said to be the world's worst humanitarian emergency.
After two decades of warfare and the worst drought in 60 years, some southern areas have been declared as suffering from famine.
MSF said it was "deeply shocked" and "saddened" by the shooting.
One of the men was killed immediately, while another died in hospital from his injuries, the aid agency said.
MSF head Christopher Stokes told the BBC that a Somali national had fired the shots, after being told his contract would not be renewed following accusations of theft. The man has been arrested.
Mr Stokes said it was not clear how the man had been able to smuggle a weapon into the compound.
Last week, three Somali aid workers distributing food to famine victims were shot and killed, the UN said.
Two of them worked for the UN World Food Programme, while the third worked for one of its partner organisations.
The attack took place in the central town of Mataban, which is controlled by Ahlu Sunnah - a militia which generally supports the government.
The Islamist al-Shabab group has banned most foreign aid agencies from the areas it controls - most southern and central regions.
The UN-backed government controls the capital, Mogadishu, but al-Shabab, which is linked to al-Qaeda, stages suicide attacks in the city.