Guinea-Bissau coup attempt: Navy chief arrested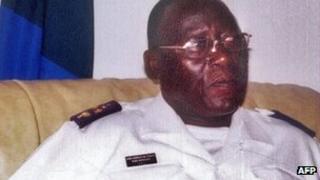 Guinea-Bissau's navy chief has been arrested after an attempted coup on Monday, the West African nation's army chief and defence minister have said.
The army said there were more clashes overnight in the hunt for suspects, the AFP news agency reports.
President Malam Bacai Sanha is in France, where he has been receiving medical treatment since early December.
Last year, navy chief Rear Adm Jose Americo Bubo Na Tchuto was named by the US as a "drug kingpin".
In recent years the tiny West African nation has become a major transit hub for cocaine smuggled from Latin America to Europe and suffered much political unrest as a result.
Embassy refuge
The unrest began in the early hours of Monday morning in the capital, Bissau.
Correspondents say it was initially unclear what was behind the trouble, which saw Prime Minister Carlos Gomes Junior briefly take refuge at the Angolan embassy in the city.
Some reports suggested it was soldiers attacking the army head quarters, demanding more pay.
Bissau-based journalist Alberto Dabo told the BBC's Network Africa programme that there was also speculation that it was two factions of the armed forces fighting for control of the drug-smuggling trade.
But at joint press conference on Monday evening, army chief of staff Gen Antonio Injai and Defence Minister Bacrio Dja said it was an attempt by a group of soldiers to overthrow the government.
They said that 30 people had been arrested including Rear Adm Na Tchuto - who denies US accusations that he has played a key role in international drug trafficking.
A source within the military said that many soldiers had been injured in Monday's fighting, including two generals and a lieutenant, Mr Dabo said.
An army captain told AFP on condition of anonymity that he had lost a soldier in more skirmishes overnight as his men attempted to make further arrests, including those of politicians.
"They took advantage of the exchange of fire to vanish. We are actively looking for them," he said.
Vladimir Monteiro, the UN spokesman in Guinea-Bissau, said the coup attempt did not come as a surprise.
"Within the army, there's a need to professionalise the institution," he told the BBC.
Mr Dabo said that residents of the capital were not happy about the latest unrest.
"People here are angry because of the behaviour of the military, who have been involved in bloody events since the 1980s. Citizens who have been interviewed say they want peace and stability in this country," he told the BBC.
The country has endured repeated military coups, assassinations and political unrest since it became independent from Portugal in 1974.