Nigeria conflict: Boko Haram sect battles kill scores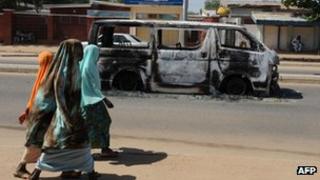 Nearly 70 people have died in days of fighting between Nigerian forces and suspected Islamist gunmen in the country's north-east, officials say.
More than 50 Boko Haram militants were killed in a lengthy gun-battle in the town of Damaturu, said army chief of staff Lt Gen Azubuike Ihejirika.
Separately, at least 11 people died in a clash in the city of Maiduguri.
Boko Haram, whose name means "Western education is forbidden", often targets security forces and state institutions.
Residents scared
The fighting had erupted in Damaturu - the state capital of Yobe - on Thursday afternoon, Police Commissioner Tanko said earlier.
Lt Gen Ihejirika said his forces had killed more than 50 suspected militants.
He told local radio: "They came with sophisticated and heavy weaponry... and bombs but our trained soldiers subdued them".
Seven policemen and two soldiers died in the clashes, Yobe's Police Commissioner Lawan Tanko told the BBC.
One eye-witness told the BBC that bomb blasts and shooting could be heard around Damaturu for several hours.
"People are scared and they are just moving out of the town now," said the witness, who gave his name as Suliman.
In Maiduguri, the capital of Borno state, at least 11 people were killed in another shootout, officials and medics say.
The city - on the threshold of the Sahara desert - is described by Nigerian authorities as Boko Haram's heartland.
The sect first came to prominence in 2009 when hundreds of its followers were killed when they attacked police stations in Maiduguri.
Its founder, Mohammed Yusuf, was arrested but died in police custody.
Boko Haram resumed its attacks - mostly in Maiduguri - a year later and has since staged deadly raids across the mostly Muslim north, as well as central areas such as Jos and Abuja.
Under Yusuf's leadership, the group demanded that Nigeria become an Islamic state but it is now believed to be made up of several factions, with various demands.