Tunisian constituent assembly approves new cabinet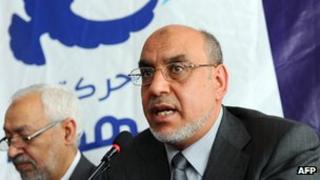 Tunisia's constituent assembly has given clear approval to a cabinet proposed by the new Prime Minister, Hamadi Jebali.
The assembly was elected in October, with the moderate Islamist Ennahda party winning a majority of seats.
The caretaker government must now write a new constitution to pave the way for further elections.
A popular uprising in Tunisia led to the fall of President Zine al-Abidine Ben Ali in January.
A total of 154 members of the 217-seat constituent assembly approved the new government, with 38 members voting against and the rest abstaining.
Key ministerial posts in the 41-member cabinet have gone to Ennahda, which won 89 seats in October's election making it by far the largest party.
Among top positions, Ali Larayedh, a former political prisoner and senior Ennahda official, was named interior minister and Rafik Ben Abdessalem, son-in-law of Ennahda leader Rached Ghannouchi, has been nominated as foreign minister.
Nourredine Bhiri, currently party spokesman, is to fill the post of justice minister, while Abdelkarim Zbidi, an independent, will remain in his post at the defence ministry.