Nigeria oil spill 'could hit fisheries'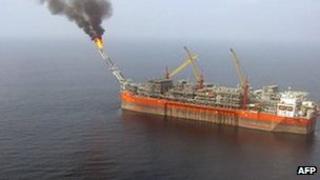 The head of Friends of the Earth, Nigeria, has warned that a recent oil spill off the country's coast could have a severe environmental impact.
"We are concerned this will have a major impact on the ocean, on the coastline, as well as on fisheries," Nnimmo Bassey told the BBC.
An estimated 40,000 barrels of crude oil have spilled into the Atlantic Ocean from the Shell oil field.
Shell maintains that the leak remains offshore, is thinning and breaking up.
Shell's chairman in Nigeria, Mutiu Sunmonu, told the BBC the leak was "regrettable" but the oil firm was attempting to "mitigate the consequences".
Mr Sunmonu said he was confident that the five ships using dispersing agents and the evaporation of the oil meant the spill would not reach the shore.
"It gives me a lot of confidence that it will not impact on the coastline," he told the BBC.
The leak occurred at the Bonga field, which is approximately 120km (75 miles) offshore and produces 10% of Nigeria's oil exports.
It happened during a transfer of oil to a tanker.
Inspection
Friends of the Earth, Nigeria, says it fears the spill could have a serious impact on the breeding grounds of bonga fish.
"The area in which this spill occurred is a very special area for the bonga fish, that provides protein for most of West Africa," said Mr Bassey.
"It will certainly have a major impact on the aquatic life of the area... 40,000 barrels of oil didn't just disappear. Where did it disappear to?" he said.
Mr Sunmonu apologised for the leak, saying: "As soon as we became aware of it, we stopped the flow of oil and mobilised our own resources, as well as industry expertise, to ensure its effects are minimised."
He said that Nigeria's National Oil Spill Detection and Response Agency would be visiting Bonga on Saturday to inspect the clean-up operation.
Analysts say most previous oil spills in Nigeria have been onshore and caused by sabotage or militant attacks.
In August 2011, a UN report into spills in Ogoniland found that the region could take 30 years to recover.
A claim for damages has been launched in London against Shell for these spills on behalf of 68,000 Nigerians living in Ogoniland.