Creating a film industry in South Sudan from scratch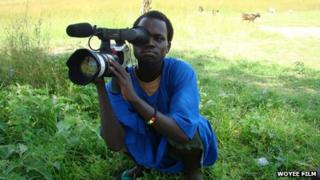 In a village near South Sudan's capital, Juba, two women tentatively approach a small corrugated iron hut. They have come from the north to reclaim the land that was theirs before a two-decade conflict between Sudan and what is now South Sudan.
A man emerges, starts shouting and pulls a gun. They run, screaming down the road but stop abruptly mid-stride when a young man, who has been watching intently from across the street, shouts: "Cut!"
This is the set of one of South Sudan's first homemade movies, written, directed and produced by the Woyee Film and Theatre Industry, a collective of young South Sudanese who are driving the country's burgeoning arts scene.
South Sudan is the world's newest country after its people voted to secede from the north in a referendum last January - and it is busy rebuilding its economy and its cultural identity in the wake of the civil war.
Ongina O Amos, one of the collective's members, explains that "woyee" is a chant of praise in South Sudanese.
"If you say woyee it gives you courage to do what you want to do."
That is what the collective is about, motivating South Sudanese to build up the country's economy and its arts scene from within.
They are young - all their members are under the age of 30 - hard-working, multi-skilled, multi-lingual and are creating an industry where nothing existed before.
Woyee had a unique beginning. Its founding members met while in a Kakuma Refugee Camp in Kenya at the height of their country's civil war.
It began in 2000 as a theatre group, made up of young students who were eager to keep themselves busy in the camp. At its head was 14-year-old Daniel Danis, who fled Sudan when he was seven years old.
Together they wrote and performed short plays that dealt with issues affecting young refugees, such as HIV/Aids, domestic violence and women's rights.
In the next few years the group had come to the attention of various non-governmental organisations [NGOs] within the camp - which began hiring them to spread educational messages. They learned film-making skills from FilmAid International.
When the war ended in 2005, individuals started to return home, but they resolved to continue working together.
Now with more than 70 members, an office in the country's capital and a feature film under their belt, Woyee has gone from strength to strength.
Last February they released Jamila, the first feature film to be produced entirely by South Sudanese people.
Crowd puller
Juba's only cinema was destroyed during the war so the film had to be screened in a local cultural centre. More than 500 people showed up on the first day including government officials, the media and NGOs.
They decided to hold a second screening attracting an even bigger crowd.
"South Sudanese couldn't believe Sudan had a movie of its own," says Mr Danis.
"The movie really looked like it was from another country that was stable or had peace for a long time. They didn't believe it was South Sudanese until they saw the local names."
When the audience saw the quality of the film, comparisons were immediately drawn to Nollywood, Nigeria's multi-million dollar home movie industry.
"Our big dream is to make it like the Nigerian film industry," says Mr Danis. "That is why we named it Woyee Film and Theatre Industry not Company."
But the group are thoroughly realistic about the limits of South Sudan's film industry.
"We are starting from the root level and we are thinking beyond," says Kululu Elgebena, another member working on the latest film. "In 30 years' time we will see ourselves trying to compete with the rest of the world."
All members of the collective are volunteers who have other jobs to get by and spend every spare hour they can making films. Mr Danis is a journalist at a local radio station, others work in local businesses and many are still students.
"That is the culture that we have nurtured since we've been in the refugee camp," says Mr Danis. "We have to do things for free, to help ourselves."
But they suffer from a constant shortfall in funding and equipment - until 2010 they did not even have a camera.
However last year the UN Development Programme funded Woyee to stage a series of community performances around the elections in 2010.
The actors worked for free and they put that money to buying two film cameras from Nairobi. They have managed to earn enough to keep their Juba office running by renting them out to people outside the collective.
Frustration
Eager to get their first film out to as many viewers as possible, Woyee has distributed the DVD around the country free of charge.
But the vast majority of households in South Sudan have no electricity, let alone DVD players so this is an ineffective way to get the film to the masses.
As well as Jamila, they have created a series of 14 short films that tell stories of village life and offer advice on how to deal with problems such as theft, conflict and issues over land ownership.
"They are just based on social life of our people and would deal with topical issues... without touching on politics," says Mr Danis.
The collective is very keen to have these films screened in communities around the country but they are increasingly frustrated with a lack of support from the government.
With only one television station in the country - the state-run SSTV - carrying a monopoly, it is extremely difficult to show their films on TV.
"Every time we go to the Ministry of Information there is a lot of bureaucracy so we get frustrated," he says.
Getting their films to the outside world is just as difficult. They cannot upload films on to the internet as bandwidth is low and it takes too long.
But these logistical problems have yet to stem the creativity and enthusiasm of Woyee's members.
They are currently working on a film based on the life story of Dr John Garang, a hero of the South Sudan's independence movement who led the Sudan People's Liberation Army during the country's civil war.
"We really want to screen them in the communities and show the people that we now deserve to watch these things," says Mr Danis.
You can hear more about the arts in South Sudan from The Strand on the BBC World Service. Listen to the programme here.